The Simpsons Season 3 Episode 14: "Lisa the Greek" Photos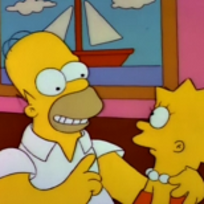 Added:
Displaying 1 photo
Around the Web
Want more The Simpsons?
Sign up for our daily newsletter and receive the latest tv news delivered to your inbox for free!
Lisa: Dad, I'm making the Chiefs my 5 star silver bullet special. And with your blessing, I'd like to tie it to the Cowboys, plus 5 in Chicago.
Homer: Good, Good. You Call Moe.
Lisa: (Dials phone) Hello, Moe? It's L.S. calling for H.S--
Moe: Just give me the numbers Lisa.
Homer: You see, Lisa, your mother has this crazy idea that gambling is wrong. Even though they say it's okay in the Bible.
Lisa: Really? Where?
Homer: Uh, somewhere in the back.