The Simpsons Season 5 Episode 22: "Secrets of a Successful Marriage" Photos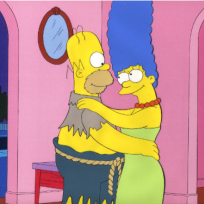 Added:
Displaying 1 photo
Around the Web
Want more The Simpsons?
Sign up for our daily newsletter and receive the latest tv news delivered to your inbox for free!
Homer: Oh. And how is education supposed to make me feel smarter? Besides, every time I learn something new, it pushes some old stuff out of my brain. Remember when I took that home wine-making course and I forgot how to drive?
Marge: That's because you were drunk!
Homer: And how.
Homer: Look Marge, you don't know what it's like - I'm the one out there every day putting his ass on the line. And I'm not out of order! You're out of order! The whole freaking system is out of order! You want the truth? You want the truth? You can't handle the truth! 'Cause when you reach over and put your hand into a pile of goo that was your best friend's face, you'll know what to do!! Forget it Marge, it's Chinatown!!!
Marge: Homer, don't ever tell them personal stuff about me again!!
Homer (sheepishly): Yes ma'am.