Two and a Half Men Season 5 Episode 18: "If My Hole Could Talk" Photos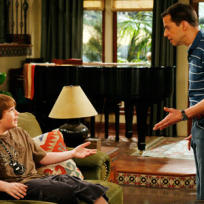 Added:
Displaying 1 photo
Around the Web
Want more Two and a Half Men?
Sign up for our daily newsletter and receive the latest tv news delivered to your inbox for free!
Alan: (referring to Jake's lost book) We should put frosting on the damn book. He's never lost anything with frosting on it.
Charlie: I don't know why you continue to bang your head against the wall. The kid is obviously destined to sell tube socks out of the trunk of his car.
Alan: A business of his own... gee, that would be swell
Charlie: (about Jake) I'll bet you're sorry you took all that LSD before you had him.
Alan: I never took any LSD!
Charlie: You might want to start telling people you did.