Michael Scott Quotes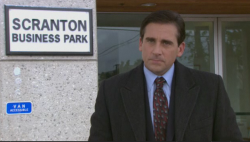 Season 7, Episode 21: "Goodbye Michael"
Michael: This is gonna feel so good, getting this thing off my chest. That's what she said.
• Rating: 5.0 / 5.0
Michael: Hey will you guys let me know if this ever airs?
• Rating: 5.0 / 5.0
Michael: The people that you work with are, when you get down to it, your very best friends.
• Rating: 5.0 / 5.0
Michael: Am I doing the wrong thing?
Jim: Absolutely not. It's just that sometimes, goodbyes are a bitch.
• Rating: 5.0 / 5.0
Michael (to Gabe): A little cover up on your adam's apple will make it appear smaller, which will make you look less like a transvestite.
• Rating: 4.4 / 5.0
Michael (to Erin): You don't need a mom, because you have my number and you can call me anytime.
• Rating: 4.5 / 5.0
Michael: I can't do this. All the channels are going to be different there. I'm not going to be able to find my shows. I am not going to start improv at level one. I don't think my credits are going to transfer.
• Rating: 3.3 / 5.0
Oscar: What town do Holly's parents live in?
Michael: I'm not sure...Mount tuh (mumbles).
Kevin: Sounds beautiful.
• Rating: 5.0 / 5.0
Michael: Was it just me, or did you think we were going to have sex at some point?
Angela: It was just you.
• Rating: Unrated
Michael: You should never settle for who you are.
• Rating: 5.0 / 5.0
Are we missing your favorite quote from "?" Submit it here and get points for adding quotes!
Total Quotes: 1012