Lost (Page 3)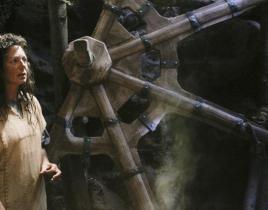 They've been known as Team Darlton, but Lost fans have another moniker for producers Damon Lindelof and Carlton Cuse after this week's episode: Team You Su...
Few episodes in Lost history have fans as divided as "Across the Sea." To some, this hour revealed the kind of island mythology that they've been craving f...
Isn't this ironic? After years of Lost fans craving resolutions to a number of questions, the events that led to Oceanic 815 crashing on the island were, i...

WOW. There's not much that can be said about this week's episode of Lost other than: WOW. Actually, there's a lot that can be said, which is why we're hard...
As previously reported, Allison Janney will guest star on this week's episode of Lost as… someone. The former West Wing stalwart - who will appear a...
Following the most emotional episode in Lost history, this iconic series moves ahead with a new installment on Tuesday, May 11. It will be unlike anything ...
RIP, Sayid, Lapidus, Sun and Jin. This week's episode of Lost spilled more blood and ended more lives than any single hour in show history. It was fast-pac...
You've heard of a blood bath, right? This week, Lost - shockingly, dramatically, poignantly - introduced us to a sub bath. Lapidus is dead. Sayid is dead. ...

One of the best actresses in TV history is coming to Lost… in some capacity. Allison Janney, who won multiple Emmys for her role as CJ on The West W...
For those hoping the Lost series finale will tie up every loose end and answer every last question, producer Damon Lindelof has a message: Don't count on i...