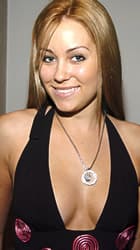 Chris Richardson may want to rethink who he dates.
After all, one of Lauren Conrad's exes is going to jail.
In any event, the 22-year-old Chesapeake, Va., native and American Idol hopeful has been getting cozy with the 21-year-old Laguna Beach and The Hills reality TV star.
The two were spotted flirting and kissing in Los Angeles at the club Les Deux, In Touch Weekly reported in its April 23 issue.
"It was their first date," a pal of Conrad's told In Touch.
"And it seems to have gone well."
The pal added that Lauren Conrad thinks Chris Richardson is "totally hot," according to In Touch.
Conrad also presumably thought Jason Wahler was a hottie, but the two had a "dramatic break-up" prior to filming The Hills' second season last fall.
Since then it's been all downhill for Wahler, although rumors that he and Conrad filmed a sex tape that is about to be released appear to be false.
Our hunch is that is was Spencer Pratt - LC's nemesis and the boyfriend of her one-time BFF, Heidi Montag - floated those rumors out to the public.
Either way, it looks as if Lauren Conrad and Chris Richardson are enjoying each other's company. Here's hoping he can stay out of prison... and on an American Idol competition that's getting pretty tight with the departure of that ass clown Sanjaya Malakar.
Matt Richenthal is the Editor in Chief of TV Fanatic. Follow him on Twitter and on Google+.