It's our favorite show no matter what, but just how realistic is Gossip Girl? The fun New York Magazine rating system attempts to answer this, taking into account the real and surreal moments from each episode.
According to the show's unofficial publication, this week's new episode, "Desperately Seeking Serena," rated even on the realism scale. Below are some excerpts from this New York Magazine feature ...
They exclusively refer to Nelly Yuki by both of her names, even when addressing her to her face. In high school Asians are always two-namers. Plus 3.
Ooh, new Sex and the City ad! Plus 1.
Nelly Yuki likes Flo Rida? No, no, no. Minus 2.
Nate Archibald's dad going into rehab was "on the front page of every newspaper in the city"?? We didn't get to see that in an episode? Robbed! Minus 2.

We love how, on TV, people sit down for one drink and it always automatically cuts to them being drunk. Serena has one Cosmo and then we cut to her being a whore. Let's be honest, that's exactly how it happens in real life. Plus 2.
Georgina drinks Cosmopolitans? She has her own COKE dealer. Crazyface is not drinking Cosmos. Minus 1.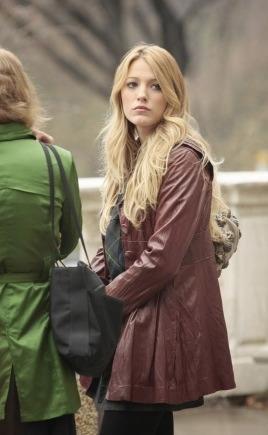 Serena van der Woodsen can never solve her own problems. She always calls Chuck, Dan, even Blair to help her out. So real. She's pretty. Other people fix things for her. Plus 2.
Isabel made a joke about booking a flight to Tel Aviv in reference to going to study at Jenny's? Is that a joke about Kati fleeing the country? Or the Humphreys living in war-torn territory. Either way, not clear, and probably offensive. Minus 2.
Nate did that thing all attractive boys do when they want to kiss you. All they have to do is get their face near yours, not even saying anything, and you have to kiss them. It's a law of nature. Plus 2. Another Plus 2 because nervous Vanessa (Jessica Szohr) is making wry commentary throughout the whole thing.
Georgina finds Dan in the park (Minus 2, you can't randomly find someone in the park, and where the hell did that golden retriever come from). Another Minus 2 because Dan would clearly be too worried about Serena to flirt with someone else.
Steve Marsi is the Managing Editor of TV Fanatic. Follow him on Google+ or email him here.