Sit back and get comfortable, 90210 fans.
E! Online has provided us with a wealth of spoilers regarding upcoming storylines.
We'll start with tomorrow night's new episode, "Okaeri, Donna." Look for Kelly and Ryan to finally make out during the hour. It's a game of tonsil hockey E! describes as "so hot and heavy, you may turn away from your TV."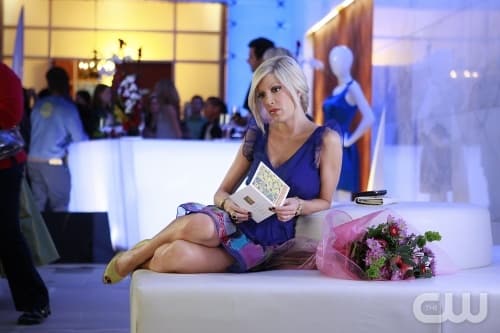 As for what else is to come on 90210? How about sex, drugs, alcohol and murder.
"Oddly enough all of those things [happen in the finale]," said star Rob Estes.
What else goes down? Follow this article's jump for a long, exciting list of developments...
"There are some rash actions at the end of the season, where one of the characters makes some decisions that may have very serious consequences, life and death consequences, if you will," said Executive Producer Rebecca Rand Kirshner Sinclair. "A lot of stuff happens during prom. There's love that's finally fulfilled and yet, because of various circumstances, potentially destroyed forever. There's love, there's death, there's heartache, heartbreak."
Due to scrutiny over her meltdown, Silver leaves West Beverly this week. Where does she head? An all-girls Catholic school! Actress Jessica Stroup - confirming what she hinted at in our interview - says her character is on medication and will take awhile to return to the old, fun-loving Silver.
We know Ethan is saying goodbye, but we don't know why. According to Stroup: "Ethan's character has also gone through a lot, you're going to see in the next couple for him that he's exploring life and trying to get out of his little bubble of a world that he's been living in. In a lot of ways, Silver and Ethan do have a lot in common and they've known each other for a long time. It's understandable they would have feelings for each other, so they possibly may try to do something." 
Wait: does that mean Silver and Dixon are finished?!? "There's going to be a lot of problems up and down. They're working out whether or not it works for them anymore and if he's supportive enough. In the end do they stay together? You're going to have to see," said Stroup.
Might Annie be the death hinted at above? "In the final episode of the season, Annie blows her top. It's the cliff-hanger from hell. It's a great surprise," Estes said. "Liam just keeps pressing her, saying, 'When are you going to lose it? You're not really as good as you pretend to be,' and she's not."
Ryan Eggold adds that Annie has "a very interesting last moment in the finale."
Okay, okay. We'll tune in. We promise.
Matt Richenthal is the Editor in Chief of TV Fanatic. Follow him on Twitter and on Google+.