The Good Wife got off to a great start last night.
Thanks to an impressive cast (led by Julianna Margulies) and featuring a timely subject matter (the scorned wife of a cheating politician), it's safe to assume that CBS has a hit on its hands.
Did you miss the pilot episode? Wish to catch up on various storylines? Check out our summary of the series premiere.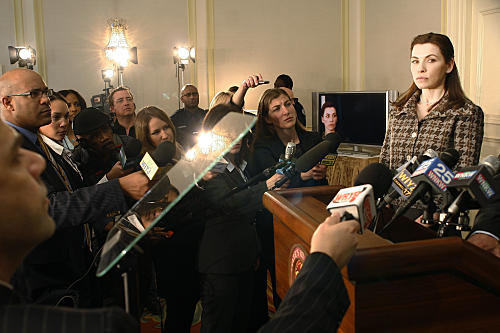 Check out a few of our favorite The Good Wife quotes from last night and let us know: Did you enjoy the first episode as much as we did?
Alicia: You're worried about my husband, Mr. Childs. You've obviously never made a woman angry. | permalink
Peter: When I get out, it will all go back to normal.
Alicia: Nothing will ever go back to normal. | permalink
Client: Does it ever get easier?
Alicia: No, but you do get better at it. | permalink
Diane: You have some very prominent baggage. But, hey, if [Hilary Clinton] can do it, so can you. | permalink
Matt Richenthal is the Editor in Chief of TV Fanatic. Follow him on Twitter and on Google+.