Was it the best Vampire Diaries episode of the season? It was certainly filled with the most backstory.
One staff writer has already reviewed "History Repeating," but now a few of us have gathered for the latest Round Table discussion of our favorite new series.
Must we say farewell to the Salvatore brothers? And can you muster any sympathy at all for Damon? Discuss these issues and more in our Vampire Diaries forum, as we tackle them below...
Is this the last we've seen of Stefan and Damon?
The Barnacle: Is this question serious?!? Of course not. Kevin Williamson has said any character is vulnerable, but not these two. And certainly not yet.
Dr. Shepherd: Sadly, yes. If there's one thing we know, it's that Damon never goes back on his word. This show is going to suck without them - and suck a lot less at the same time, if you know where I'm going with that. I'm going for a vampire play on words there.
M.L. House: Yes. The Salvatore story is now complete. Expect a new vampire family to move in to Mystic Falls next. I hear they're called the Cullens or something.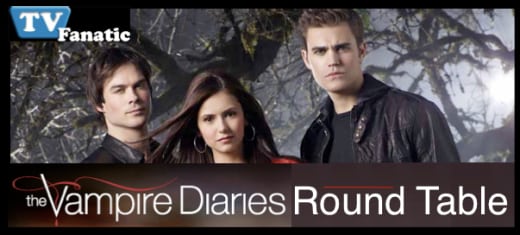 Give us your first impression of Matt Davis as Alaric Saltzman.
The Barnacle: It's hard to see this character being too scary, but I'll give him a chance. I would have said the same about Ian Somerhalder a few weeks ago and, boy, was I wrong there!
Dr. Shepherd: I loved Matt in this role, but can't sum it up as well as one of our readers did this morning. And I quote: "ALARIC.....yay! and matt davis as him....totally rocks,his cute....anyway,hmmm since merideth isnt in the tv version,it seems they r making him elena's aunt's love interest???????....anyway,alaric,i just hope they don't kill him off...seems everyone's being killed off....motherchuker!!!! lol"
M.L. House: I'm sorry, I don't do impressions. I'm a TV critics, not a stand-up comic.
The seance: lame or creepy?
The Barnacle: It started out lame. How many times have we seen this sort of thing on TV shows? But then it got very cool. I especially loved the quick shot of Emily in the mirror as Bonnie walked out of the bathroom.
Dr. Shepherd: A pillow fight would have been better.
M.L. House: Lame. Sorry, but when there are three girls alone in a bedroom, I'm not hoping they sit around a series of candles and call on a spirt. Have they never heard of naked smores making?!?
Do you feel bad for Damon?
The Barnacle: For Damon? For the guy that's killed more people in a couple weeks than I've met in my lifetime? Shockingly, I'm gonna say no.
Dr. Shepherd: I actually do, and that's a credit to the subtle brilliance of Ian Somerhalder in the role. He's never too creepy or so sarcastic that you can't like the guy, even though he's a bloodthirsty maniac. Sort of like Michael Emerson as Ben on Lost, you may love to hate Damon, but you can't hate him outright, because he's such a uniquely dynamic character. And hotter than Ben from Lost.
M.L. House: I feel bad for Bonnie. If stupid Stefan hadn't interfered, she could have followed in the path of Caroline and been under Damon's command. Damon's sexy, sexy, sexy command... wait, where was I?
Matt Richenthal is the Editor in Chief of TV Fanatic. Follow him on Twitter and on Google+.