After being anceled in 2003, Family Guy was  luckily able to come back after strong DVD sales for a fourth season.  With a lot riding on the season, Seth MacFarlane and company did not disappoint and are of course still on the air.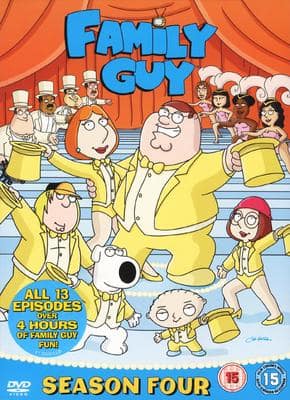 Season four was the longest in the show's history with the 27 originally airing and the straight-to-DVD release of Stewie Griffin: The Untold Story later airing as part of the fourth season.
We've put together the largest collection of Family Guy quotes from the season.  Here are just some of our favorites:
Peter: Everybody, I got bad news - we've been cancelled.
Lois: Oh, no. Peter, how can they do that?
Peter: Well, unfortunately, Lois, there's just no more room on the schedule. We just gotta accept the fact that Fox has to make room for terrific shows like: Dark Angel, Titus, Undeclared, Action, That 80's Show, Wonderfalls, Fastlane, Andy Richter Controls The Universe, Skin, Girls Club, Cracking Up, The Pits, Firefly, Get Real, Freaky Links, Wanda At Large, Costello, The Lone Gunmen, A Minute With Stan Hooper, Normal, Ohio, Pasadena, Harsh Realm, Keen Eddie, The Street, American Embassy, Cedric The Entertainer, The Tick, Louie, and Greg The Bunny.
Lois: Is there no hope?
Peter: Well, I suppose if ALL those shows go down the tubes we might have a shot | permalink
Peter: Okay, first of all, Bonnie, you've been pregnant for like six years, all right. Either have the baby or don't | permalink
Meg: Finally! Look Mom I've had it. I'm not babysitting anymore. It's Saturday night I could be out having a life.
Lois: Meg, if you don't wanna baby-sit anymore that's fine, but don't you stand there and lie to me.
Peter: OH-HO Meg, she torched your ass man! She torched your ass | permalink
Peter: Hey Mort, do these suppositories come in other flavors?
Mort: Peter, are you eating those?
Peter: No, I'm shoving 'em up my butt. Of course I'm eating 'em! | permalink
Lois: Peter did you take Stewie to a strip club? he smells like Sweat and fear.
Stewie: Ughh let me tell you Tuesday afternoon is not exactly their "A" squad, I actually saw bullet wounds. | permalink
Death: I'm going to a Celine Dion Concert. I'm not gonna kill her, I'm just gonna watch her die on her own. | permalink
Lois: I now understand that eating is not the way to solve my problems. You hear that, Meg?
Meg: For your information, Mom, I don't eat to solve my problems. I cut myself. Is that better?
Lois: Chris we all love your hat.
Chris: Thanks Mom! | permalink
Betty White: Welcome to Peterotica on tape. I'm Betty White reading "The Hot Chick Who Was Italian or Maybe Some Kind of Spanish" by Peter Griffin. Chapter one, Oh god, you should have seen this one hot chick. She was totally Italian...or maybe some kind of Spanish. | permalink
Stewie: Did you hear that Meg? Guys can marry other guys now. So this is awkward but I mean if they can do that, that is pretty much it for you, isn't it? I mean you as well pack it in. Game over. | permalink
Peter: Between you and me I hear Joe's got a little free time these days. I hear he hasn't touched Bonnie in months
Joe: Peter, you just whispered that to me. | permalink
Eric Hochberger is the programmer of TV Fanatic, so please forgive his mediocre writing. His programming is far better. Follow him on Twitter and/or email him. Just don't request threaded comments. They're coming.