It's very sad but true: every primetime series is on hiatus until 2010. Before the calendar turns, however, let's take a look back.
So far, the TV Fanatic staff has reviewed the season's pros and cons of The Vampire Diaries, 90210, House and Heroes.
Up now: The Good Wife.
Best character: Alicia Florrick. We were tempted to go in a less obvious direction and select Cary for the layers the show has given what could have been a one-note, stereotypical character. But the success of The Good Wife starts and ends with Julianna Margulies' performance as Alicia. This is a woman scorned that puts on a professional face when needed, lashes out at those that judge her when called for, yet never loses composure.
It's how we'd hope to act if our district attorney of a spouse was ever caught cheating with a string of hookers.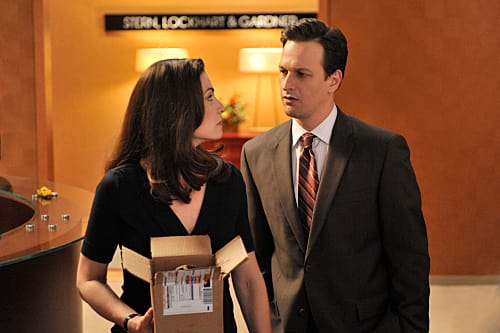 Worst character: Zach Florrick, only because we had to choose someone. While the show functions so well as a simple drama that doesn't rely on anything except well-written storylines and characters, the entire plot of Zach working to uncover the conspiracy against his father is a bit of a stretch.
Best storyline: Aside from the overall idea of Peter in prison, there is no overarching storyline on this legal procedural. So we'll choose a relationship: the interaction between Grace and Alicia. Each can get understandably frustrated with the other, but it's a pleasure to watch this mature, realistic depiction of two women that clearly appreciate one another at the end of the (difficult) day.
Grade so far: A Minus.
Hopes for 2010: Just keep it basic. Don't go for any outlandish developments or storylines. Keep relying on your strong cast and an audience that is grateful for an intelligent show that doesn't aim for the lowest denominator.
Agree with this assessment? Disagree? What grade would you give The Good Wife so far?
Matt Richenthal is the Editor in Chief of TV Fanatic. Follow him on Twitter and on Google+.