Despite the much-hyped lesbian kiss between Gia and Adrianna, we have to say, this week's episode of 90210 definitely belonged to Naomi and Liam.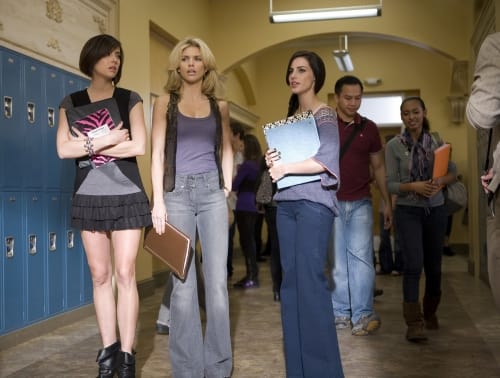 During "Clark Raving Mad," Liam discovered his step father was cheating on his mother, and after sucker punching the guy, he ended up moving in with Naomi.  Naomi, meanwhile, had her own intense storyline as she decided to stand up to the new Blaze faculty advisor, Mr. Cannon, for no apparent reason.
After tearing him a new one, Mr. Cannon rightfully kicked her off the Blaze, only to have Naomi try and lead a hilarious revolt with one of the most incoherent rallying speeches to her troops.  Anna Lynne really has turned Naomi into one of the funniest, most likable and relatable characters on the show.
We definitely like how they managed to bring the couples' story lines together at the end (plus their hot make out scene in the beginning!), with the tying theme of their mothers being walked over.  Can't wait to see where the sexual harassment war takes them.
In other couple news, Teddy definitely seemed to have fun messing with Silver after her little jealousy issues of last week.  As irritating as his actions with, including tells Silver he got drunk with an ex and woke up with a wicked hang over on a chaise, the ending scene between them was kind of sweet? 
We're honestly still not sure how we feel about Teddy.  At least we got some insight into him from the mention of his father, and according to our interview with Trevor Donovan, we're going to learn even more.
Okay, we know we have to at least discuss the Gia / Adrianna hookup.  The storyline might be a ratings ploy, but at least the show is trying to handle the scenario with some maturity, actually delving into some deep concepts of sexuality. Ah, who are we kidding, it's all about getting two girls to kiss.
Beyond the mere hotness of two attractive girls kissing (though, we're still on the fence on Rumer), we're very curious to see where this relationship goes and how Navid and Adrianna's fellow bandmate are going to react to everything.  Hopefully this storyline develops beyond the hype.
While we definitely enjoyed the birth mom storyline when it was first introduced, it really has dragged on with no developments.  Unlike Dixon, we were not sad to see Dana go.  We're really curious what the impacts of her visit will have, particularly on Debbie, who ended up kissing Kai!  Will she tell Harry?
Speaking of dragging on, the episode had to feature a little creepy Jasper lurking in the shadows.  The supposed cliffhanger was Jasper calling Annie to tell her he's going to kill himself without her in his life.  Is it really a cliffhanger if we're not going to miss him?
Now for our favorite 90210 quotes, including Naomi's hilarious insults at Mr. Cannon:
Mr. Cannon: I'm warning you, I have very high standards.
Naomi: They couldn't be too high or you'd be working in news and not bossing a bunch of wanna be kids around for what, twenty grand a year? | permalink
Naomi: Next time, just ask, "Am I in or out because I'm not popping the pill every day just to get rids of zits and PMS." | permalink
Debbie: I think this is a family matter.
Dana: Family matters always trickle down to the kids, and one of your kids I gave birth to. | permalink
Dixon: Maybe we can Skype and watch a game together.
Dana: Okay, I'm not sure what that means, but sounds like fun. | permalink
Eric Hochberger is the programmer of TV Fanatic, so please forgive his mediocre writing. His programming is far better. Follow him on Twitter and/or email him. Just don't request threaded comments. They're coming.