While this week's episode of 90210 featured no girl fights, there was still plenty of drama to keep us excited for the full hour of "What's Past is Prologue."
We'll start off with the Dixon storyline.  We actually love the way the show is handling the birth mother, Dana.  It 100% makes sense that this woman would feel insecure in front of the seemingly perfect Debbie and Harry.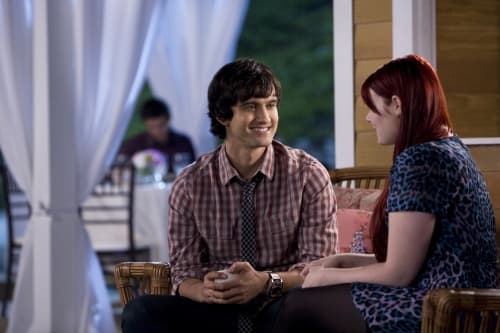 Both Annie's chat with Dixon, and later Dixon bonding with his birth mom were both very cute scenes.  Less cute?  The sports betting conversation leading Dixon to what's obviously going to be a cheesy gambling addiction plot.
We're also very annoyed at Debbie.  While we understand the arrival of Dana will make you insecure about your relationship with a son you don't share the blood relation she does, taking it out on Harry, who's only happy for his son, and seeking comfort in the arms of another man?  Even if those arms are the younger, toner ones of a yoga instructor.  Not cool.
While we feel bad for Navid that he's going from the hot Adrianna to the weirdo Lila, we at least think the two were cute and mutually awkward on their "second" date.  Our favorite part of the plot line was, of course, learning that Adrianna joined the same band Lila was in. 
Wow that girl can sing!  Can't wait to hear some more songs featuring Jessica Lowndes.   Oh and did we mention Gia finally admitted to a teary-eye Adrianna that she likes her!?  We originally thought the girl-on-girl kiss as all a ratings-ploy, but we'll admit, we're hooked and intrigued.
Wow do we feel for poor Silver on her date with Teddy where seemingly every girl has a history with him.  Who can blame her for having trust issues and sending a little spy?  Oh wait, Teddy can.  We're curious to see how the relationship fares with having trust issues so early on.  If you need to know, you can of course read the 90210 spoilers we posted yesterday.
Unfortunately, the show still continues the creepy Jasper plot line.  In this week's installment, the weirdo stole the Wilson family car and had it stripped down to destroy evidence for Annie.  How sweet.  Now go leave the show.
While not as strong as last week's installment, this week's was still great.  Now for our favorite 90210 quotes from the hour:
Naomi: Are you asking me if you should get implants? Because I thinks that's a great ide... big no no. | permalink
Dixon: I don't know what to call her. Mom? Dana? Woman who gave birth to me and doesn't want to talk to me at dinner?
Annie: That last one seems a little long. | permalink
Liam: Suspended from school? Sounds more like a vacation.
Navid: You ever face disappointed Persian parents? My own mother said I urinated on the legacy of my ancestors. | permalink
Annie: Why are cupcakes so much better than cake?
Naomi: It's the fact that you don't have to deal with birthdays. Let's face it, birthdays suck unless they're mine. | permalink
Eric Hochberger is the programmer of TV Fanatic, so please forgive his mediocre writing. His programming is far better. Follow him on Twitter and/or email him. Just don't request threaded comments. They're coming.