The Office Review: "New Leads"
at . Comments
Last night on The Office, Michael was up to his childish ways - which was to be expected.
But, who would have guessed that the entire office would be split in two - sales people vs. everyone else?!
If we had to take a side in this week's episode - we would have to be on the side with everyone else. It is not fair that the sales people would make so much more just because they are doing their job.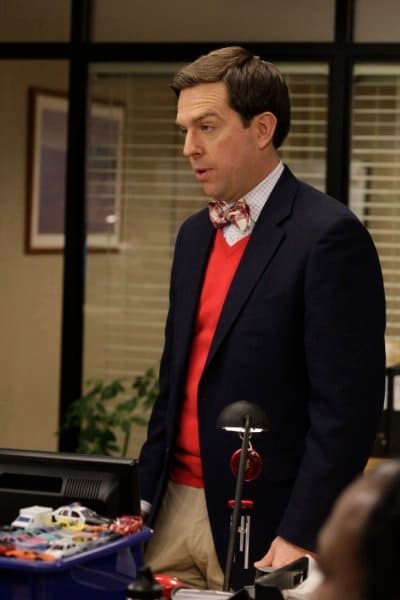 Although, it was pretty funny when Stanley walked into the conference room all angry and upset that he has to fork over two percent of his pay check; only to be told that they accepted their piece offering of the sweets and nothing else. His creepy smile was hilarious. Got to love Stanley. 
"New Leads" had us laughing out loud plenty of times. How great is it that Darryl is now in a suit? And has a pretty sweet office? We can't wait to see what silly antics he will get himself into now that he is part of the big boys.
Off topic, what is the heck does he do anyway? What's his job title? And will he ever go back to the shipping department downstairs?
We missed the crazy antics between Jim and Dwight this week (how great was the mega desk!?), yet it was nice to see Dwight and Michael go at it. We didn't really understand why such a battle took place or how they managed to end it with taking a thrown out bean bag home...it must just be part of their quirky relationship!?
Our favorite part of the episode was the first kiss scene!
How cute is Andy? Erin gets on our nerves just a bit, but Andy is totally head over heels in love with her! How funny was it when he thought Erin hid his leads in her lady parts?!
And the best thing about them is that they really fit well together! When Andy told her that she was the nicest girl he's ever known - wow, it really melted our hearts - even despite it being at a dump! We know these two are in for so many awkward moments together.
Jim and Pam can't keep their baby hidden forever! Bring her to the office guys!
Overall, we thought last night was a pretty good follow up to last week's craziness. What did you guys think? Do you think that Andy and Erin have what it takes to make it? Leave us your comments below!
We leave you with a few of our favorite The Office quotes after the jump!
Michael: You are all successories! | permalink
Michael: Just imagine that instead of going to jail when you murdered someone, you got an ice cream cone. If that we the case, then in the summer time, everyone would go around killing people for the pleasure of an ice cream cone. | permalink
Michael: The sales department smashed my sandwich?
Darryl: Yes - all of them together. It's a conspiracy. | permalink
Dwight: Salesman is king. As the best salesman I am king of kings. Oh, you say Jesus is king of kings? Well, what does that say to you about how I think of myself. | permalink
Dwight: Okay - Dwight out! | permalink
Michael: First up - the Lost and Found has gone missing. It itself is lost, so please try and not loose anything until we find it. | permalink