Before I get into the crux of this review - for an episode, "Another Another Chance," which I mostly enjoyed - allow me to get the worst part over with first:
The longer this Annie/Jasper angle continues for, the more I consider dubbing it The Worst Storyline in Television History. As I detailed last week, and as most readers agreed, it's been handled poorly from the start, as it took far too long for the hit-and-run to play a role in Annie's relationship with Jasper.
Now, 90210 wants us to believe that Annie was incredibly traumatized simply because she drove past the spot where the accident occurred?!? First, she was on the way home from Naomi's that evening. It would stand to reason that the area of the crash is relatively nearby and she'd have come across it before.
More importantly, she dated the nephew of the victim for months. She was reminded of the incident daily. It defies reason that she'd suddenly have nightmares about it, especially following last episode's mature, impressive speech on Annie's part. The show REALLY needs to end this storyline.
Okay. Deep breath. With that rant out of my system, it's important to note what I did enjoy about "Another Another Chance." There was a lot to like.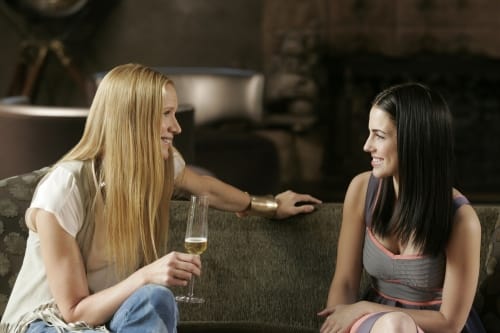 Should Adrianna sign the record deal? Sound off in our 90210 forum!
For the most part, this episode dealt with relationships. Which would end? Which would grow stronger? Which would be rekindled? An analysis follows...
Dixon and Ivy: I like these two together almost as much as I hate anything having to do with Annie and Jasper. They're cute, they're funny and Tristan Wilds and Gillian Zinser have definite chemistry together. I complained a week ago that things were moving too quickly in their fake relationship, but it looks like we'll be treated to a slow, real courtship now. I dig it!
Teddy and Silver: I know, this relationship wasn't touched on at all. But that was a big plus in my book. They are happy and healthy. No reason to contrive issues for the pair every week. It's perfectly fine to have them fade into the background, content with one another, for a bit.
Laurel and Ryan: I love these two. Just when you think Laurel has the wrong priorities and is all focused on the music scene, she gives Adrianna an inspiring pep talk, and also manages to loosen up Ryan. But does anyone else fear his old drug habit returning? It might be hard to teach if you wake... and then bake.
Adrianna and Navid
: I'd prefer a bit more tension and more obstacles for these two before they got back together. Right now, the path back to each other has been too easy and smooth. Sure, each has dated someone els - but they've remained close, and does any viewer really doubt they'll be a couple again before the season is through? The show needs to make a reunion seem almost impossible, and then spring it upon us unexpectedly, to really be exciting and effective.
More simpler put: Adrianna and Navid are sweet, but boring.
Liam and Naomi: These two are anything but boring, that's for certain. Still, does anyone else think Liam overreacted? Of course Naomi was in the wrong, but he claims to know her and to love her, doesn't he? Naomi may be well-meaning overall, but let's face it: she is selfish and manipulative. Ivy was right about that. Viewers have grown to care about her because we see her softer sides, too.
But Liam has to love Naomi for who she is. Often times, that individual is a misguided liar. Forgive and move on, dude... and hold this over Naomi for major sexual favors!
A couple other topics before we turn this over to the readers:
No development between Deb and her Yoga teacher?!? It makes some sense why Rob Estes is leaving the show. There's really no attention paid to the adults on it.
It's inexcusable that the show would gloss over Liam's reaction to Naomi's lie and their subsequent fight over it. All we saw was him walk to the parking lot... and then return from surfing to talk with Ivy. I legitimately thought my DVR broke and fast forwarded by accident. How could viewers not have actually bear witness to the actual confrontation between Liam and Naomi? A few steps were definitely skipped here.
What the heck was that multi-colored, striped shirt Dixon was wearing in school when the episode opened?!?
Does anyone trust Liam's birth father?
Silver in a tight mini-skirt? Yes, please.
What did you think of the episode? We've listed our favorite 90210 quotes below and will return later with a detailed Round Table discussion, along with a complete song list from the hour!
Navid: Shouldn't you be sharing shopping tips with Lady GaGa about now? | permalink
Dixon: Any chance you'll let your fake ex-boyfriend take you out on a real date? | permalink
Laurel: Don't get your panties in a bunch.
Ryan: My panties are very much bunched right now. | permalink
Liam: Get it through your head, Ivy. We're never gonna happen. | permalink
Dixon: Why would your mom hire me?
Ivy: Maybe because I told her you were one of the hottest new DJs in town and you just spun Rob Pattinson's birthday party. | permalink
Matt Richenthal is the Editor in Chief of TV Fanatic. Follow him on Twitter and on Google+.