Modern Family Review: Corny Jokes, Gay Drummers, Fake Machete-Wielding Actors and More!
Matt Richenthal at .
So that's where Phil gets it from!
While we saw a glimpse of Fred Willard as Frank Dunphy a few weeks ago, turns out that video chat was nothing but a tease for one of our favorite guest-starring appearances, on any show, of the season.
As "Travels with Scout" proved, Willard was pretty much born to play Phil's dad. Having smartly veered away from the cheesy monologues each week, the sitcom didn't try to explain that Phil gets all his cheesy jokes (and subpar communication skills) from his father.
Instead, it simply showed us, via a slew of puns and corny one-liners. (Sample: Phil: Dad, what's up? Frank: Nothing, but these boxers are starting to ride high.)
It also showed us the hilarity that would ensue if the Dunphys ever actually owned a dog, from Claire's reluctant love for it, to the canine showing up Luke at every turn. One of the funniest moments of the episode? Not necessarily when Luke ran through the screen door... but when he asked "what happened?" afterward, still failing to comprehend why he was on the ground.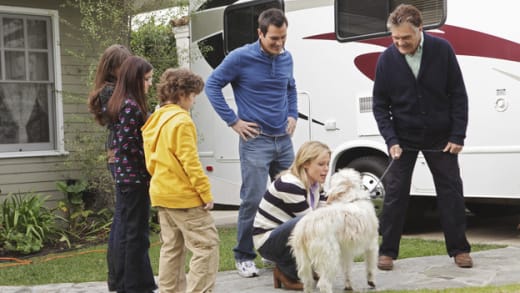 Granted, the conclusion to Frank's storyline fell a tad flat (he needed to drive cross country in order to fall in love with the dog, only to realize that he could simply give his wife allergy medication for it?) and we have one other continuity complaint:
Cameron said he wanted to join Dylan's band because he's grown stir crazy from staying at home with Lily all the time - but it was literally last episode where he had a part-time job and yearned to return home. It's very possible ABC aired these installments out of order.
But whatever. We're not here to nitpick plot developments. We're here to laugh uproariously at Manny. I loved that he got scared at a horror movie, just like many boys his age would...
... but proceeded to react to this terror with the hilarious maturity he always displays. Seriously, has the home's perimeter been breached? Amazing stuff.
Below, we've listed a bunch of Modern Family quotes from the episode. Which was your favorite? Did we forget any noteworthy lines?
Phil: I was gonna tell Claire about the dog. I was just waiting until she was in the right mood. Actually, I did get one right mood a couple nights ago... but I cashed that in for something else. | permalink
Jay: It's just the doorbell.
Manny: Maybe a demon is ringing it! | permalink
Cameron: Did you hear that woman screaming my name?
Mitchell: That was Phil. He had a Red Bull. | permalink
Jay: What's up with the big sweater at a concert? Some sort of gay thing?
Mitchell: No, it's from this apres-ski party and... yes, it's some sort of gay thing. | permalink
Dylan: I don't think we'd like the same music.
Cam: Because I'm gay and only like show tunes?
Dylan: Because you're old.
Cam: Well, that hurt more, Dylan. | permalink
Phil: We're like two peas in a pod, or Siamese twins, a snake with two heads!
Claire: They've actually been all those things for Halloween. | permalink
Jay: You want scary? When I was his age I lived through the Cuban Missile Crisis. I slept with a butter knife under my pillow in case I had to fight some Soviet colonel.
Gloria: Why?
Jay: Because I could identify all the Commi planes.
Gloria: What are we talking about?!? | permalink
Frank: Listen, when my granddaughter's boyfriend's band plays an under-21 club with my daughter-in-law's brother's gay partner, I show up. That's just how I was raised. | permalink
Matt Richenthal is the Editor in Chief of TV Fanatic. Follow him on Twitter and on Google+.