What can even be said about this week's Community aside from: Wow and HA!
The episode "Modern Warfare" took the sitcom's pop culture references and self-aware cliches to a new, hilarious level.
While it may have been too much for some viewers that have never seen 28 Days Later, Die Hard or any one of a number of action films parodied during the half hour, I gave it a perfect score. How come?
Because it takes guts and confidence to go all out in such a manner. Community doesn't garner more than five or six million viewers each week. Although its already been renewed for a second season (hooray!), it would be understandable if it scaled back on its references in order to reach a larger audience.
Instead, it's gone the other way. We had The Godfather-inspired "Contemporary American Poultry" on April 23 and were treated to an episode last night that mocked everything from Rambo to The Matrix to Cheers and Friends.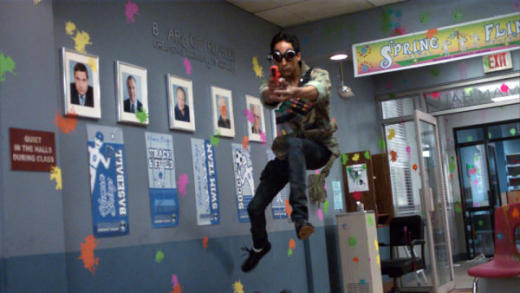 Early on, the show tried to push the Jeff/Britta relationship, Ross and Rachel style, only to back away from this pairing as viewers expressed their displeasure for it. That's what made last night's developments so unique and interesting.
Jeff and Britta finally got it on, but only after the rest of the study group mocked their sexual tension and the two themselves mocked the cliche of hooking up amidst violence and chaos. Then, they actually did so anyway. In a way, the writers managed to turn viewer complaints into a storyline, one that made sense within the meta world of the show.
All that analysis aside, "Modern Warfare" was simply funny. It poked fun at Glee, which shares a lot with Community. It made Abed into the Terminator ("Come with me if you don't wanna get paint on you.") and even showed heart, with Jeff handing over his prize to Shirley.
Below, we've listed a few of our favorite Community quotes from the episode. Did we miss any? Chime in now!
Troy: You thinkin' what I'm thinkin'?
Shirley: Mmhmm. Our team's walking with God. | permalink
Jeff: There's no "Britta and Jeff."
Pierce: ... he said, fully erect. | permalink
Jeff: And tell the drama club their tears will be real today. | permalink
Troy: I want TBD. Is that new?
Pierce: If it's what I think, I had it for about a month in the '70s. | permalink
Shirley: I hated Sam and Diane.
Annie: Who are Sam and Diane?
Shirley: Okay, we get it. You're young! | permalink
Abed: To be blunt, Jeff and Britta is no Ross and Rachel. Your chemistry and sexual tension are putting us all on edge, which is ironically, and hear this on every level, you're keeping us from being friends. | permalink
Shirley: My boys are going to make me breakfast in bed for mother's day. Well, actually I'm goin' to make the breakfast and get in bed, but they're going to bring it to me. | permalink
Dean Pelton: There's also going to be a game of paintball assassin, with a prize for last man standing. Or last man in a wheelchair with no paint on him. | permalink
Matt Richenthal is the Editor in Chief of TV Fanatic. Follow him on Twitter and on Google+.