After taking a break from its usual formula with last week's 150th episode, Family Guy was back to its old style, complete with cut-away jokes this week for Mother's Day.  So how did Seth McFarlane celebrate mothers last night?  By turning Glen's dad into a mom, of course!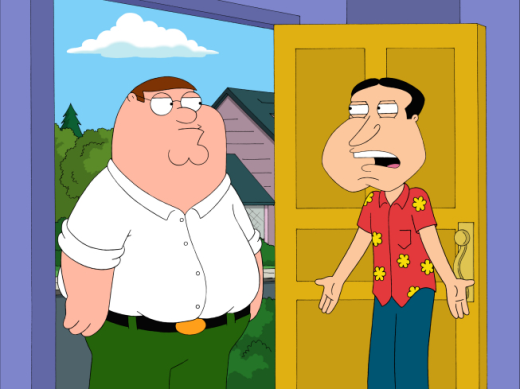 While we certainly don't watch Family Guy for its messages, "Quagmire's Dad" actually surprisingly preached tolerance for transgenders.  How so?  By treating them the exact same way they treat everyone on this equal opportunity offender.
Aside from Brian's two minute puke fest after finding out he slept with a post-op Ida, the show really treated the subject very maturely.  Glen, the ultimate player, was surprisingly accepting of his father's choice.  Heck, he was more accepting than he was at the idea of his father being gay.
We were also glad to see Glen's animosity towards Brian continuing this season and Glen fighting for his father's honor as he beat up everyone's favorite talking dog.  However, the humor and shock value just weren't there during the fight.  The prize definitely came from Brian just before the credits, "I f***ed your dad."
Another constantly used, but always funny joke was how little the family cared about Brian's desire to leave and passions.  "The fact that your last name is Griffin is a pleasantry extended to you by the family, not a legality."  Too funny.
Overall, the episode may not have had the jokes of some prior episodes, but at least it was a bold and different storyline for the show.  Our favorite Family Guy quotes from the episode after the jump.
Stewie: It's gotta be a trainwreck down there. Just an absolute casserole of nonsense. | permalink
Lois: How do you know he's gay?
Peter: A lot of little things the way he talks, his mannerisms, and he has the complete DVD set of sex and the city between his butt cheeks
Lois: Peter, no he didn't.
Peter: He had the DVD set. I was just being colorful with the rest of it. | permalink
Meg: I like the outfit you have on
Ida: Thank you, Meg. Who did your procedure.
Meg: Wow, you just burned your last friend in this room, lady. | permalink
Eric Hochberger is the programmer of TV Fanatic, so please forgive his mediocre writing. His programming is far better. Follow him on Twitter and/or email him. Just don't request threaded comments. They're coming.