Whoever made the decision at NBC to push Parks and Recreation to midseason needs to be fired.  Granted the ratings aren't where they need to be for this show, but there's no way that's the show's fault.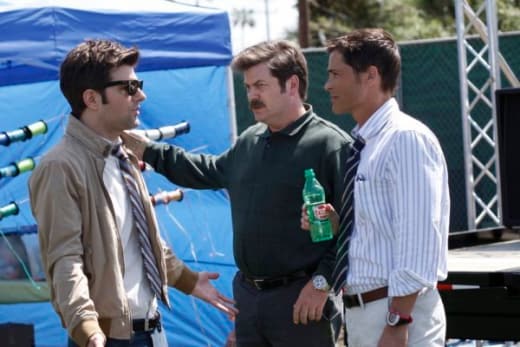 Creatively, this show has definitely established itself as more than just that Office clone people thought it was last season and easily our favorite show on Thursdays.  The network need to rethink its marketing of the show and bring back Parks for the fall and give the show the push it deserves.
Oh right, this is supposed to be a review of the season finale, not NBC.  Everyone knows how terrible that network is.  No review needed.  As for for "Freddy Spaghett," we can sum up the episode in one word: perfection.
Like all finales, the show wrapped up plenty of its season-long arcs while also introducing plenty of new twists and turns for its delayed third season.  Our favorite arc wrap up?  The fact the episode used the empty lot (formerly the pit) for the concert and Mark gave Leslie a set of plans during his sweet sendoff.  I never thought I'd say this, but Mark, you'll be missed.
Parks really does have an impressive way of making all its ridiculously characters so lovable.  Even the two new additions to the Parks and Recreation cast, Rob Lowe's Chris and Adam Scott's Ben are starting to grow on me.
Our Ron Swanson moment this episode?  With so many amazing moments, it's tough.  We're gonna have to give it to Ron stating that being on the budget-cutting task force giving him a semi.  Close runner ups?  Ron's spring slash fall, his bacon-covered turkey leg, and, of course, Tiger Woods outfit after nailing Wendy.
Parks has truly had one of the most impressive seasons of any shows on television and it's truly amazing where the show has come from its failed first season.  We can't wait until the show returns in 2011 and will miss Pawnee every week until then.
Our favorite Parks and Recreation lines after the jump.
Tom: Is that bacon on your turkey leg?
Ron: They call it a Swanson. | permalink
Tom: Ron Corleone. This really attractive woman is my girlfriend, Lucy.
Ron: Hello, Lucy.
Lucy: Hi.
Ron: Whoa. Impressive handshake.
Lucy: Thanks. My father told me that a limp handshake was for weak men and communists. He hated both.
Ron: Well done, Tommy. | permalink
Andy: Is there any chance you could fix me in the next 10 minutes.
Dr. Harris: Sure. I'll just advance medical science 30 years.
Andy: Great. | permalink
Ron: I'm an official member of a task force dedicated to slashing the city budget. Just saying that gave me a semi. | permalink
Tom: We had dinner last night and breakfast this morning. What were we doing in between? Sex stuff.
Lucy: You guys know Tom really well so I don't have to apologize for his behavior, right? | permalink
Mark: Recently I have been thinking about maybe leaving this job, but I felt like I needed a sign. And then Ann broke up with me the week I was going to propose, the government got shut down and yesterday one of those pigeons took an [expletive] on me. And I was indoors, so... | permalink
Eric Hochberger is the programmer of TV Fanatic, so please forgive his mediocre writing. His programming is far better. Follow him on Twitter and/or email him. Just don't request threaded comments. They're coming.