The stakes were raised for all four girls on Pretty Little Liars this week.
Following their plan to block electronic messages from unknown users, the main characters were faced with pressing developments in their personal lives, all of which were somehow documented by this mysterious presence. That was the basis for "Can You Hear Me Now," as reviewed below...
Mr. Fitz? More like Mr. Throws a Fit! My favorite part of the hour was Ezra's in-class explosion. It shows this character has the potential to be far more immature than the 16-year old he's inappropriately dating. While he and Aria eventually made up, let's hope this outburst is a sign of creepy things to come for Mr. Fitz.
It was also a welcome progression for Aria's mom to learn of her husband's affair. There's only so much we can take of Aria debating whether or not to reveal this tidbit, though her dilemma over it has been understandable. It's not a situation any of us would want to consider, but what would you have done in Aria's shoes?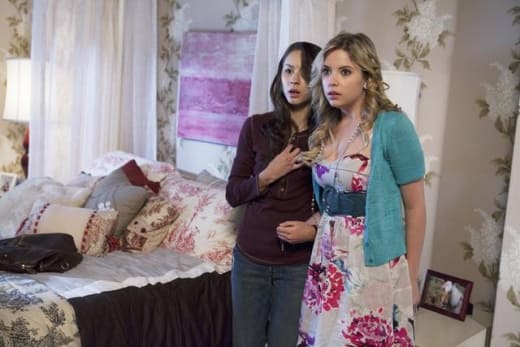 Hanna's new family: Ouch. That was one of the more awkward televised meals this year, as Hanna was introduced to her future step mother and step sister. Probably not a great move by her father to break this news to Hanna by actually inviting those two along for a family date.
This sets the stage for future storylines with Hanna, as her dad also made a comment about her weight and we were reminded that Hanna has come a long way - or has she? She's clearly that same insecure girl inside, and that aspect of her personality will be harder to do away with now that A is back in her life.
Rushed relationship galore: I now must touch on my two least favorite storylines: anything involving Wren or Maya.
The former says he wished he had met Spencer before Melissa. Really, Wren?!? You've known Spencer for about five minutes. Ideally, the show would have waited a few episodes to set up the dichotomy between Spencer and her sister, and also to establish some chemistry with Wren, before putting these two together.
Then, there's Emily and Maya. I've gone on about these two in past reviews, so I won't beat a dead, bisexual horse now. However, the forced interactions between the pair have made me not care at all about their relationship.
Was anyone moved by Maya's speech about how she cared for Emily and would therefore wait for her? Or, like me, were you just hoping to see more of Emily and Toby interacting? There's definitely a history between these two, as teased by the show's sly close-up of Emily's "Chemistry" book in class after Toby took a seat as her lab partner. Get it?!?
What was your favorite and least favorite parts of the episode? Which act of A's would you be more freaked out by, lipstick on a mirror or a song request on the radio?
Sound off now in our Pretty Little Liars forum!
Matt Richenthal is the Editor in Chief of TV Fanatic. Follow him on Twitter and on Google+.