Hawaii Five-O continued the new year with a strong story and great action in "He Kane Hewa' Ole."
The action was strong and evenly tempered, with true emotional storytelling. The opening car chase packed a punch, but it was Danno's awesomely executed roll out of a moving car to pursue a suspect that really got me excited. It was one of the coolest stunts I've seen in the series so far.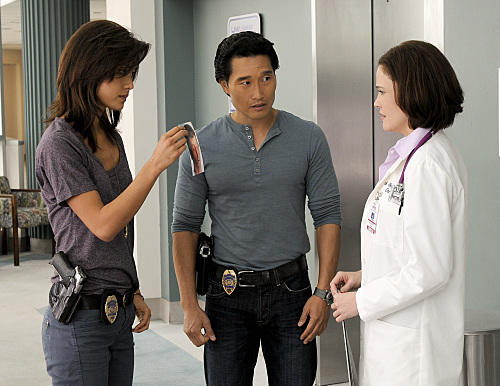 I have to give kudos to Danno for bring up McGarrett's "soft spot." I think the timing was a bit off, but it's reassuring to know that Danno recognizes the things in his partner that could lead to lapses in judgment.
Kono got to work through a few more rookie blues, and learned some helpful lessons. I think that having her cousin around to help guide her will assist the character grow and come fully into her own as an officer.
Chin also ran into his ex-fiance, Malia. It's clear that there are still sparks between the two. Malia is still wearing her engagement ring, which is a definite sign that she hasn't let Chin go, and Chin trying to explain that he had broken the engagement to protect her showed he wasn't quite over her, either.
The chances for seeing Malia again are good, but I can't help feeling there must be more than a mere desire to protect on Chin's side if he continues to allow people to believe that Malia was the one who had broken off the engagement.
I admired McGarrett's desire to assist the family of Han Chi, the driver killed in the opening car chase. However, there is something that bothers me a little about the string pulling he did to help gain the family citizenship. This may be a case of McGarrett projecting, as Danno said in the episode, but I have to wonder if this is the sort of act he'd do for any hard working immigrant family.
It just seems a little unfair to me, because while it was a good deed it just made me think of all the other people scraping and clawing for citizenship who don't get the benefit of having a governor speeding their application along.
On an aesthetic level, I'm still not convinced of the functionality of the black latex gloves that the Five-O favor for investigating crime scenes. It looks cool, but seems a bit unpractical. Also, with all the great work that gets put into making the action sequences so great, it would be nice if some money could be spent so that the CGI blowflies looked a little more realistic. In the scene where the decapitated body was found in the truck, the blowflies looked like random swarming particles instead of insects.
Still, this was a very fun episode, and I enjoyed the CHiPs nods as Danno and McGarrett both tried to claim the role of Ponch. I'm siding with McGarrett. He's Ponch.
Remember: New episode next week on SUNDAY night, not Monday. Following the AFC Championship Game on CBS.
Matt Richenthal is the Editor in Chief of TV Fanatic. Follow him on Twitter and on Google+.