Modern Family Review: National Man of Mystery, Hilarity
Matt Richenthal at .
As the title suggested ("Bixby's Back"), this week's episode of Modern Family was all about the return of Clive and Juliana.
Or really just Clive.
Every word out of Ty Burrell's mouth, as his alter ego attempted to awkwardly seduce his very willing mistress, was comedic gold. We're talking about a man who often catches things from women at bars and who never takes long.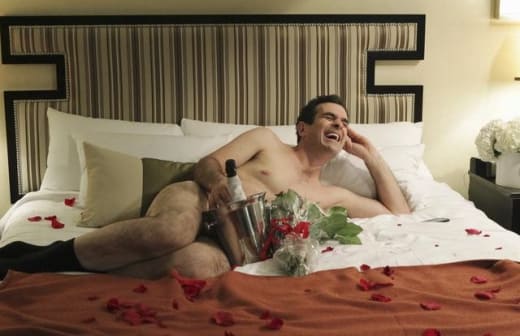 [Photo: ABC]
Unfortunately, the Claire/Phil role-playing reprisal was the only storyline that really worked on the episode. Manny wooing Haley was more creepy (and reminiscent of Arrested Development) than funny. No, these two aren't blood-related. But, still, weird idea, Manny. Just... weird.
Nothing really came out of the Cam/Mitchell fight over the latter's assistant, except for yet another excuse for this couple to argue. It would be nice to see them on the same side for a change, instead of constantly bickering over petty issues. I know this is a sitcom, but can't the pair make us laugh without going at each other each week?
Same for Gloria and Jay. She may have "won" Valentine's Day, but that pay-off wasn't enough to warrant time spent at the restaurant, as I felt just like Jay while Gloria got her "feedbag" on: can we hurry this up please?!?
Still, Clive made it all worth it. Gotta love the fact that Phil believed the use of name tags was so vital to this game that he actually stopped home to pick them up. Or that he possessed exactly $10 million. Talk about a rich national man of mystery!
I wish the entire episode had just been Phil bumbling over lines at the bar, as they comprised a majority of my favorite Modern Family quotes from the week. See for yourself:
Phil: I don't like to talk about money. But I have exactly ten million dollars. | permalink
Phil: You look hot enough to cook a pizza on... in. | permalink
Phil: I've usually good at catching things from women in bars. | permalink
Gloria: I am the second wife Jay, why do you treat me like I'm the first? | permalink
Phil: Baby doll, I've been lying to my wife for 16 years. | permalink
Claire: I'll be upstairs, Clive, don't take too long.
Phil: I never do. | permalink
Matt Richenthal is the Editor in Chief of TV Fanatic. Follow him on Twitter and on Google+.