NCIS: Los Angeles has been a solid show since its fall 2009 pilot, but rarely does it surpass the original NCIS in terms of viewing experience. Last night, it did so for me.
The surprising return of Moe, the even more surprising return of Nate, and a high-stakes plot that sent Sam undercover into federal prison made "Lockup" outstanding.
Action-packed and legitimately terrifying at times, the story kept viewers guessing with one twist after another, then concluded on a harrowing note for Agent Hanna.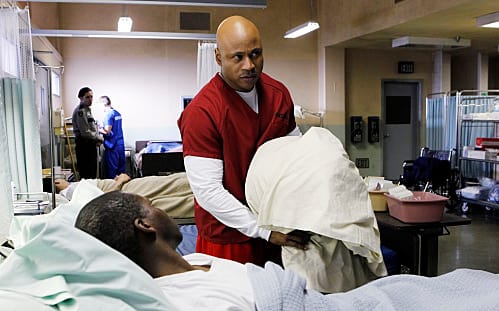 The episode opened with Moe brutally attacked in prison. A model prisoner, there's no reason anyone would want him dead - except that someone offered him a secret deal.
Get close to Abdul Habaza, a terrorist mastermind within the prison, and his sentence will be commuted. Moe was beaten as part of an "initiation" into Habaza's inner circle.
Imagine Sam's shock when he learns NCIS of all agencies made him that offer, and that Hetty is many steps ahead of him, planting an undercover agent within the prison:
Peter Cambor's Nate, MIA since the season premiere, is watching over Moe.
Sam insists on going undercover to protect Moe and help expose Habaza. Posing as a devout Muslim and prisoner, he quickly impresses the terrorist with his fighting skills.
Kensi and Deeks learn that the Yemeni terrorists are working with a prison guard to bust Abdul Habaza and his lieutenants out of prison and back to the Arabian Peninsula.
After narrowly surviving a machine gun attack - that was insane, as Deeks noted, and Kensi is quickly becoming the most bad-ass agent of all time - NCIS hatches a plan.
Sam will help break Habaza out and then track him using "Overwatch," giving the government access to his once-impenetrable organization. Then things went haywire.
The assistant warden is dirty and digging into Sam's bogus file, poised to expose Sam, Nate or Moe as agents to Abdul, so they deviate from the script and act immediately.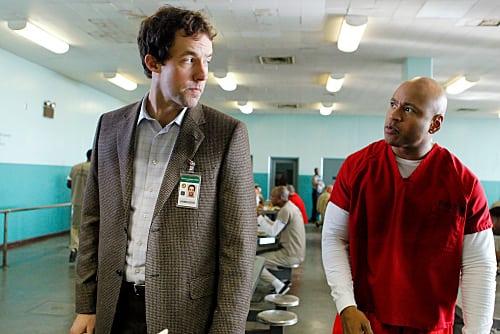 The escape plan, with its misdirection, disguises, audibles (way to go Nate!), acting jobs and blink-and-you-miss-it maneuvering, was something straight out of Ocean's 11.
Sam's application of the Overwatch was a success, and we have a feeling this guy may surface again, only in the Middle East. Especially after Sam's devastating discovery.
Abdul is no fool. He was onto NCIS, he just wasn't sure who the mole was. He suspected Sam/Hakeem, but Moe covered for him, ratting out right-hand man Sayid instead.
Sadly, Moe paid the ultimate price, being tortured and killed for that information. His lifeless body hanging in the motel left a pit in my stomach - and clearly Sam's, too.
Again many steps ahead, Hetty stops Sam from following Abdul, telling him there will come a time. He realizes he cannot protect everyone, but this one really, really hurt.
The demise of Moe was surprisingly unsettling for a character seen sparingly over the past year, but he had some powerful story lines, and none more than last night's.
Here's the emotional scene in question ...
Moe giving his life for Sam is something the agent won't soon forget, and we can only hope leads to a resolution of this terrorist hunt on Yemeni soil as Hetty suggested.
You have to love that NCIS: LA can be solid with one of its main characters, Callen, almost entirely absent. Most shows would try to force him into the script. Not this one.
Like Hetty, Shane Brennan is thinking long term. When G. gets a clue to his past and Hetty allows him to leave to pursue it, we know it's building toward something big.
A few random thoughts and observations from this terrific episode ...
"Moment on the lips, lifetime on the hips?" How does Deeks even know that phrase?
Hetty mysteriously appearing on the birdhouse cam was great. She's everywhere!
Even with him gone, Sam worried about G. Perfectly in character.
Pole dancing class = best or shadiest assignment ever?
What did you think of last night's NCIS: Los Angeles? Comment below!
Steve Marsi is the Managing Editor of TV Fanatic. Follow him on Google+ or email him here.