Elena: He described you as a monster.
Stefan: That's what I was.
Typically, The Vampire Diaries saves its biggest cliffhanger for last. On "The Dinner Party," however, there were twists and turns around every commercial corner, from a shocking death, to an afterlife lesson from an unexpected source, to a witch-on-witch attack, to a naked bathroom surprise.
Let's tackle the exciting episode, intriguing quote by intriguing quote...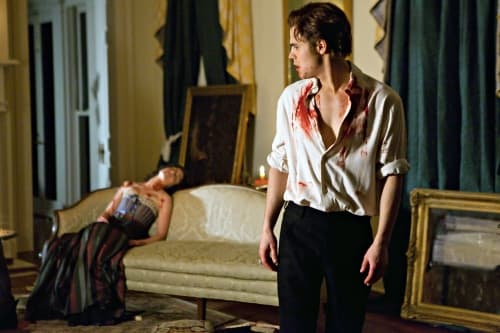 "I just want you to fight for it." So said Stefan to Elena, following a detailed account of his dark past and how Lexie swooped in, saved the day and played amateur vampire psychologist to both Salvatore brothers.
I must admit: I'm a sucker for all flashbacks. These were especially enlightening, following in the revealing footsteps of my favorite all-time episode, "Blood Brothers," taking viewers further and further into the complicated history of Stefan and Damon. Just great stuff all around, especially the way Stefan relayed the advice given to him and applied it to Elena's desired martyrdom.
"I'm going to help you." Said by Katherine to Damon. Correction: a nude, dripping wet Katherine to Damon. Thank you, Vampire Diaries! It's about time some of us guys got a bit of eye candy!
Katherine is clearly an intriguing character, played impressively by Nina Dobrev. But it's almost impossible to keep track of her plots, schemes and allegiances at this point.
I'll save any final judgment and analysis until the season is complete and we see where all this went. But if she's serious about wanting to help the good guys here, why did she come back in such a mysterious manner? Why not return and be honest and offer to help? Then again, she may not be serious about this claim and... well... see what I mean? I'm happy to just go with it for now, but the show does need to be careful with throwing out surprises just for the sake of surprises.
When this storyline is over, let's hope we can retrace Katherine's steps and her motives will remain the same.
"Leave the dagger in." A lesson well learned by Damon regarding how one kills an Original. I'm not too ashamed to say I yelped out loud at Elijah's death. I did not see that coming.
Well, his first death. When I thought he was actually dead. You've gotta love how The Vampire Diaries is so enjoyably chaotic that it kills off the same character twice in a matter of minutes. If this is the last we see of Elijah (and is anyone willing to take that bet? I predict they revive him when Klaus arrives), kudos to Daniel Gillies (friend of the site!). He did a great job portraying Elijah as a calm, collected, frightening menace.
"He took my powers." Poor Bonnie. Readers asked why I didn't comment much on her kiss with Jeremy a week ago, but there simply wasn't much to say. It was easy to see this relationship coming and then it happened. Good for them. Not much to report. That isn't the case anymore.  What is a witch without her powers? What lengths will Jeremy go to in order to help? It will be interesting to see how this plays out.
"Ouch!" Pretty much what Elena screamed out when she stabbed herself in the gut with that dagger. Talk about another shocker. Never call the Doppleganger's bluff. Duly noted.
What did everyone else think of the episode? Will you miss Elijah if he's gone? And did Alaric make a mistake by killing him? Klaus is still coming, after all... 
Matt Richenthal is the Editor in Chief of TV Fanatic. Follow him on Twitter and on Google+.