Family Guy Review: "Brothers & Sisters"

Kate Moon at .
In an uncharacteristically sweet Family Guy episode, aptly titled "Brothers & Sisters" Lois's sister Carol gets married to Mayor Adam West.
Carol, who has bad luck with love, comes to visit Lois after getting divorced from her ninth husband and instead falls madly in love with Quahog's mayor. Let's break it down...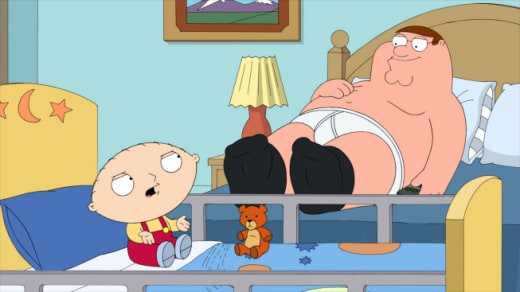 The episode was fast-paced and coherent, a nice change of pace from the last couple of fractured installment. While it wasn't hilarious, it did have heart and we got to see the adults functioning together as a family.
Peter's "sweet" line about his marriage with Lois and his desire for siblings is a nice glimpse into the emotional side of Peter that we rarely get to see, and made for one of the episode's more memorable Family Guy quotes.
For some reason, I didn't expect the marriage to go through; I thought perhaps they would find a way to circumvent the wedding in an unexpected
Family Guy
fashion.
But the lovers get their dream wedding and a movie reunion of spinning around and kissing at the airport. The episode does end abruptly after the wedding; will the writers make it stick or is it simply a one-shot episode with no continuity?
Some of the romantic scenes with Carol and Mayor West are no doubt clever homage to typical romantic comedy scenes, like strolling by the beach in a sunset or reuniting at the airport. 
Mayor West shooting the man at the beach to make the date memorable for Carol actually made me chuckle; it's what Family Guy does best after all; unexpected twists in average situations.
Overall, these were clever touches to an overall solid half hour. 
What do you think about the episode? Will we being see more of Carol and Mayor West? Tell us in the comments!