Welcome back, Family Guy! 
The 10th season of this Fox sitcom kicks off with an unexpected glitch in the opening montage. Peter impregnated one with of the dancers? AWK-ward! And it's awesome. The Simpsons style, they should change up the opening more often.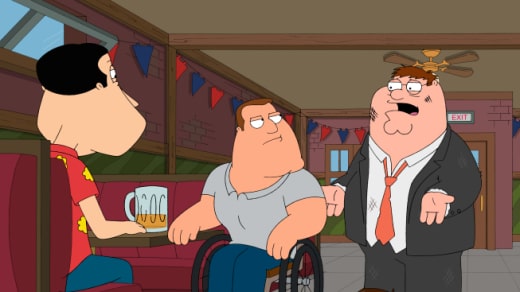 Unfortunately, "Lottery Fever" was a bit too Peter-centric and predictable, despite an intriguing premise: what would the Griffins be like if they were rich? Sure, no one actually expects Peter to be able to handle anything, let alone piles and piles of cash, but who knows what crazy things Stewie and Brian could do with all that extra money?
The episode would have been vastly improved if we had more Stewie and Brian. Stewie got himself a huge aerial mobile to help him doze off in his palatial yard, but what are Brian's money fetishes? More alcohol? More women? More pretentiousness?
Scene after scene of Peter acting like a douche to his friends just wasn't interesting enough to watch for 23 minutes. The highlight of Peter's unreasonable demands was definitely asking Joe to tape ONLY the "boob" parts of True Blood. As much as I love my vampires and True Blood, it was amusing to see Peter's exchange with Anna Paquin as she laid in Bill's arms... post-coital, natch.
Even a lackluster premiere produces a handful of hilarious Family Guy quotes, of course. Follow the preceding link to browse through them all!