The 2011 Emmy Awards will be hosted by Jane Lynch September 18. In the weeks leading up to the event, TV Fanatic staff writer Dan Forcella will watch every episode submitted by various actors in various categories and present to you his analysis on each contender.
It's the TV Fanatic Emmy Submission Mission, readers, and it has finished with the comedy categories: Lead Actor, Lead Actress, Supporting Actor, and Supporting Actress.  On Tuesday we talked about Supporting Actress in a Drama, so today we move on to Outstanding Actor in a Drama:
After realizing that four out of last year's six nominees in this category were not going to be eligible for 2011, it was clear that Supporting Actor in a Drama was going to be wide open.  Upon hearing the names of the nominated actors, and now having watched each of their submitted episodes, it has become even more difficult to decipher who is going to take home the trophy.
Three nominees stand out as having very similar performances.  John Slattery of Mad Men, Peter Dinklage of Game of Thrones, and Walton Goggins of Justified each spend much of their respective episodes in reserved roles only to finish with extremely flashy and emotional scenes that will leave voters with a good taste in their mouths.
In Slattery's submission, "Hands and Knees," his Roger Sterling stays calm throughout most of the hour as the character soaks in the fact that his mistress is pregnant and that he's lost his agency's biggest client.  All of that built up emotion comes to afoot when he blows up in a fit of anger, and even lets out a rare AMC bleeped out f-bomb before bursting out into nervous laughter over everything falling apart.
"Baelor" is almost unanimously renowned as the best episode of Game of Thrones' first season.  Whether or not it was the best choice for Peter Dinklage is up for debate, seeing as though he didn't make an appearance until the 23rd minute of action.  Like Slattery, his Tyrion Lannister didn't go through much for the first two thirds of the episode, but finished with a bang.  He tells an emotional tale about the love of his life, who turned out to be a prostitute hired by his brother and father, and concludes with a heroic speech before his men head out for war.
Goggins might be even more sidelined than the other two in his submission episode, "The I of the Storm."  His performance is very subdued in general, but Boyd Crowder is in a very sullen and depressed state at the point in the season that this episode takes place.  He straddles the line of good and evil before allowing it all to get the better of him, as he grabs a co-worker by the head, drives off in his truck, and lets the man go from the speeding vehicle.  The emotional scream Goggins releases following those events may have been the most noteworthy three seconds in this category.
I believe Slattery and Dinklage are extremely close in their performances, both a slight step above Goggins.  The edge, however, has to go to the Mad Men star, who has been nominated four times for this role and is part of a series that may well win its fourth straight Emmy.  Speaking of those with an Emmy history, seven time nominee Andre Braugher may have the best performance in the category, it's too bad he is unlikely to win thanks to his show's cancellation.  He is a two-time winner and other than Slattery, he is the only one returning to the field from a year ago.
In his Men of a Certain Age submission, "Let the Sunshine In," Braugher doesn't have the one specific scene to pin point, but his entire performance is brilliant.  Like the two men from The Good Wife, who I will get to shortly, Braugher has much more to do in his episode than the first three actors.  He is definitely the funniest of the six men nominated, which never hurts in the drama category.  His Owen is also the most relatable, and in this episode manages to go crazy on a craps table, gets drunk and picks a fight with a huge dude, and finally opens up to his friends emotionally.  This is the stuff Emmys are made of.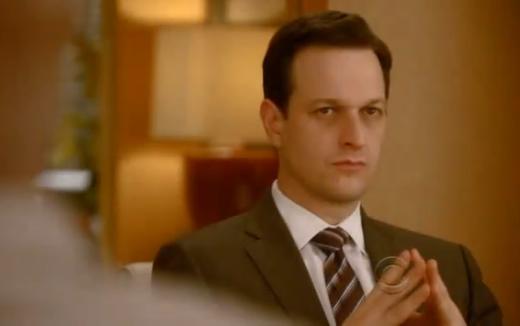 I don't watch The Good Wife, but have now seen three episodes, and it's easy to see why it gets such rave reviews.  Both Josh Charles and Alan Cumming have submitted excellent showcases in "Closing Arguments" and "Silver Bullet," but neither seems to be enough to warrant a win come the 18th.  In Charles' submission, the season finale, his Will spends most of his time doing whatever he needs to in order to win the case of the week.  After helping save the day, Will enjoys a joyous moment with Juliana Margulies' Alicia at the bar, before it escalates to a romantic escapade that I am assuming has been building for quite some time over the course of the first two seasons.  Cummings may have a bit more emotion to work with in his episode, but it never really builds to anything all that important.
This is definitely the most difficult category to predict to date, but with the combination of performance, Emmy love, and series momentum, I am going to go with John Slattery for the win.
Predicted Order of Finish
John Slattery – Mad Men
Josh Charles – The Good Wife
Andre Braugher – Men of a Certain Age
Peter Dinklage – Game of Thrones
Alan Cumming – The Good Wife
Walton Goggins – Justified
Dan Forcella is a TV Fanatic Staff Writer. Follow him on Twitter.