The 2011 Emmy Awards will be hosted by Jane Lynch September 18. In the weeks leading up to the event, TV Fanatic staff writer Dan Forcella will watch every episode submitted by various actors in various categories and present to you his analysis on each contender.
It's the TV Fanatic Emmy Submission Mission, readers, and it has finished with the comedy categories: Lead Actor, Lead Actress, Supporting Actor, and Supporting Actress.  Next up? Outstanding Supporting Actress in a Drama, and here is TV Fanatic's breakdown:
Three out of the past four years, the Supporting Actress in a Drama Award has gone to a performer that had never before been nominated, let alone won an Emmy.  Katherine Heigl for Grey's Anatomy in 2007, Cherry Jones for 24 in 2009, and Archie Panjabi for The Good Wife last year all came out of nowhere to claim the coveted prize from their peers.  If the trend should continue in 2011, we will see either Margo Martindale or Michelle Forbes giving a speech up on stage.
While many thought it a difficulty for Martindale to even receive a nomination, given that Justified wasn't on the Emmys radar last year, things have changed in 2011.  A number of her fellow cast members ended up receiving nominations as well, and there is enough buzz swirling around Justified's second season (specifically Martindale's performance), that she definitely has a lot of things on her side.
Not the least of which is how good she was in her submission episode, "Brother's Keeper."  Almost inarguably the best episode of the series to date, Martindale showcases all of her talents, as her character Mags Bennett goes through many ups and downs over the course of the hour.  She is the comforting mother, the angry mother, the stoic negotiator, and the condescending business woman all in one episode.  Martindale portrays such joy when Mags thinks her and her family are on top of the world, then comes down in such sadness and disbelief when everything is taken away from her so quickly.  With such a great performance, and the buzz to go with it, I definitely see Margo going home a winner.
Is there plenty of stiff competition?  You better believe it.  Unlike the comedy categories, each and every drama race will end up being a nail-biter.  Christina Hendricks is a major cog in the Mad Men machine that seems destined to win its fourth straight Outstanding Drama Series Award on the 18th.  She was nominated a year ago, and this time around she doesn't have to split the Mad Men vote with Elisabeth Moss, who moved up to Lead this season.  Hendricks submitted a wonderful showcase in "The Summer Man," in which her Joan goes through an extremely difficult time both at work and at home.  With no friends at the office, and a husband heading off to war, Hendricks cries, she yells, and she tells a bunch of co-workers that they will soon die in Vietnam.  It's pretty powerful stuff from the two-time nominee.
The Emmy voters do like to get complacent at times, so defending champion Penjabi should not be taken lightly.  She definitely came out of nowhere a year ago in The Good Wife's first season, but after watching my first ever episode of the series, her submission of "Getting Off," it is not hard to figure out how she won.  Her character seems extremely hard, which is different from most female portrayals on television.  In this episode she is cold as ice when facing her co-workers, but then breaks down into tears when left to herself.  I wouldn't put this on par with Martindale or Hendricks, but at least she picked a submission that left competitor Christine Baranski completely sidelined.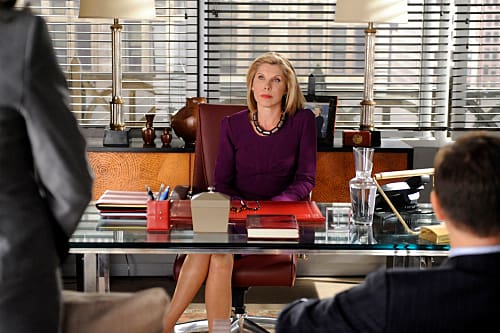 Baranski acted similarly, as her submission of "Silver Bullet" was pretty much Panjabi free.  From what I have heard, her character does not have nearly as big of a role as the others in this category, but in this episode she is definitely at the forefront.  That, paired with the fact that she is a nine-time Emmy nominee and former winner for Cybill back in 1995, should keep her in the conversation.  I just didn't see much of a performance out of her in "Silver Bullet," which harkens me to put her out of contention.
Kelly MacDonald of Boardwalk Empire won an Emmy for supporting actress in a movie or miniseries back in 2006, so she is no stranger to receiving the gold, but she seems to have an uphill battle ahead.  Boardwalk doesn't seem to have the huge head of steam that most thought it would, following a fantastic run at the Globes and SAG Awards, as MacDonald and Steve Buscemi were the only actors nominated.  In her submission, "Family Limitation," MacDonald's Margaret is extremely sad, and she is very good at playing sad, but it seems all a bit too one-note.  Margaret has one moment when she stands up to an extremely condescending woman, but other than that it is pretty unimpressive as a submission.
Finally we come to the other long heralded actress in the field that has never been nominated for an Emmy.  It wouldn't shock me if Michelle Forbes won this award, but I hated The Killing so very much, that it would pain me to see it receive any recognition.  She submitted the "Pilot," but I'm not sure if that includes the second hour of the first airing or not.  If so, she has even a better chance, because the second hour is when her character falls into the depression that continues throughout the entire season.  Forbes plays sad and depressed throughout the season, which is why I don't feel she deserves the award, but her performance over these first two hours is something different.  She starts out a happy mother and wife, but slowly turns into the depressed woman she will become over the course of the two episodes.  Will it be enough to top the other contenders, especially with all of the recent backlash against The Killing?  I don't think so.
Predicted Order of Finish
Margo Martindale – Justified
Christina Hendricks – Mad Men
Archie Penjabi – The Good Wife
Michelle Forbes – The Killing
Kelly MacDonald – Boardwalk Empire
Christine Baranski – The Good Wife
Dan Forcella is a TV Fanatic Staff Writer. Follow him on Twitter.