Family Guy solved the secret to ScarJo and Ryan Reynold's marriage in this week's "Stewie Goes for a Drive." How else do you explain two hot young stars breaking up?  It's because Reynolds wants his spirit in another man's energy, of course.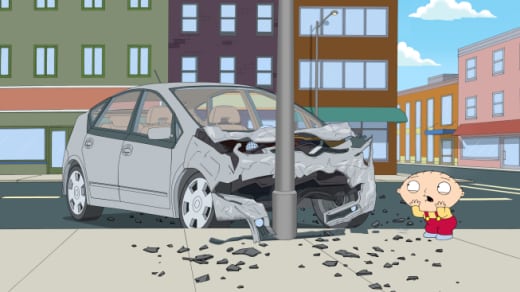 In an awesome guest voice role, this actor brought some life to Quahog.  As sexy in cartoon form as he is in real life, he successfully tricked Peter into falling in love with him.
When Peter attempted to tell Ryan that he's not gay, Reynolds turned the tables around and informed narrow-minded Peter that he isn't gay, either - he just surrounds himself with different spirits and energies.  Well, excuse us for not knowing better!
The secondary plot of Stewie and Brian was pretty entertaining as well. Although Stewie-the-baby driving is no more unlikely than Brian-the-dog driving, the former got into trouble with the latter by crashing his car.
The best part of the Storyline B was easily Stewie gunning down everyone at Consuela's house. As someone who harbors an irrational dislike for Consuela, I thought it was kind of awesome that Stewie taught them all a lesson. You don't mess with Stewie!
The recurring theme of the episode was how well everyone made fun of pop culture. From Stewie's reference to Carrie Underwood and Glee to Ryan Reynolds making fun of his own movies, Family Guy proved that it's still a satirical gold mine.
Did you enjoy Ryan Reynold's pit stop at Quahog for "Hotler?" Weigh in now and then read through the latest Family Guy quotes.