Wow. That might not have felt like a classic Simpsons episode, but it didn't matter because "The Book Job" was still one the strongest in the series' 23-year history.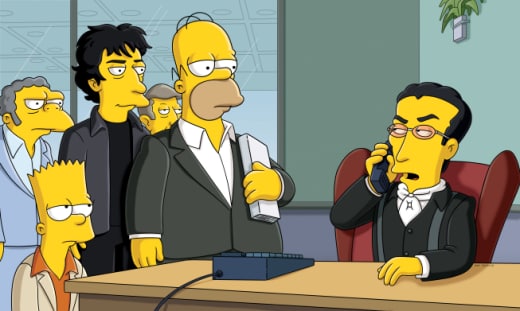 Well, I wouldn't say it stretched too far from The Simpsons formula, starting off with an irrelevant opening of the kids at a realistic dinosaur show that sent Ralph crawling back into his mother's womb.
Naturally, Lisa ran in to the actress that provided the head shots for her favorite author, J.K. Rowling T.R. Francis, as one of the actors in the kids show and learned that the young adult novel book industry is not what she thought.
And in typical Simpsons fashion, A randomly led to B: Homer and Bart took over the episode, putting together an Ocean's Eleven-style team to pull off the ultimate heist on the publisher (appropriately played by Andy Garcia).
The Crew. Simply amazing. Everyone brought their his/her skill and hilarity, from Patty's Dothraki to Parseltongue knowledge of fantasy novels... to Moe's troll-like appearance and bizarre children's novel experience.... to Seymour's expertise on tweens. Heck, there was even Neil Gaiman's lunch skills and Professor Frink's computer.
The Heist. I love the fact that Andy Garcia's publishing company, TweetLit, Inc., had tighter security than the Bellagio. Nothing like armed guards at a publishing company. Hilarious.
The Front. Lisa's attempts to be the real writer and her various distractions were great. But she won me over when she pulled off the ultimate, cheesy Ocean's Eleven double cross. I got the idea from every movie ever made.
Straight through to the fourth act and even Moe and Gaiman's hilarious post-credits bit, the episode remained strong. There were no lulls. It was definitely not Kanas City all over again.
Once you're done from recovering over the discovery Harry Poter and Twilight were just products, be sure and check out our Simpsons quotes from the amazing half hour.
Eric Hochberger is the programmer of TV Fanatic, so please forgive his mediocre writing. His programming is far better. Follow him on Twitter and/or email him. Just don't request threaded comments. They're coming.