One Tree Hill Review: I Can See Daniel Waving Goodbye

Dan Forcella at .
Dan. Effing. Scott. Whether you loved him, hated him, or loved to hate him, it is nearly impossible to argue that he didn't have one of the most intriguing and divisive character arcs of all-time. 
He tormented his sons, his wife and everyone else in town for that matter. He was hit by a speeding car, poisoned, lost out on a number of heart transplants and attempted to hang himself.  Dan Scott even murdered his own brother.
He also treated his grandchildren - we mostly witnessed this through his joyous moments with Jamie - wonderfully.  When it came down to it, and someone he loved was in extreme danger, he put everything (including his life on the line), saving Nathan Scott for his family.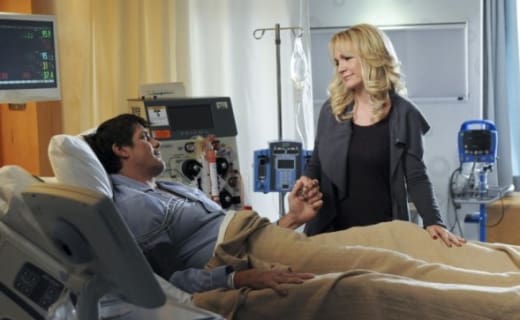 We got to relive so much of his journey over the course of these nine seasons of One Tree Hill in "Danny Boy," whether through spoken word or visual flashback, and it created for one Hell of an emotional rollercoaster.
While I merely proposed the idea back in my review of "Catastrophe and the Cure," with only two episodes remaining in the history of One Tree Hill I am now fairly certain that years from now my most vivid memory of the series will be Dan Scott's tumultuous beginning, his heroic redemption and how those two ideas conflicted with each other so effectively.
It was conflicting right down to the bitter end... to us, the audience and to so many characters on screen, including Dan.
He knew how awful he was. The man was not oblivious. Over the course of the past few seasons, we've seen him attempt to make amends; we've witnessed Dan strive to build a strong relationship with Jamie, and we watched him sacrifice his own life to save his son.
But Dan still couldn't even forgive himself for what he did to his brother, to his family, and to the entire town of Tree Hill back in season three. We heard it in his words, and we saw it in his face when he so earnestly apologized to Haley.
It was evident in his entire conversation with Nathan on the hallucinated River Court. That speech in which he left every last feeling on the bleachers they were sitting, was absolutely remarkable. Even in death, and after the ghost of Keith* forgave him for what he did, Dan still assumed he was going to Hell. This was a man who was truly for what he did in life, but even that may never be enough... for him, for them, for us.
*That guest appearance by Craig Sheffer was definitely surprising, especially since they slyly left him out of the opening credits.
Before moving on to a number of other characters who also had interesting developments this week, let's all take one more moment to recognize how wonderful Paul Johansson, the writers and the directors were at creating such a fascinating character.
Nathan returned home, safe from the European mobsters and free of that horrible story line, and it was a great reunion for Naley. As Haley wondered around the hospital hallway the anticipation grew bigger and bigger. The moment still grew larger until Nathan's quiet greeting and their extremely loud (emotionally) embrace.
That wasn't it for the two of them. They both endured major moments in dealing with the death of Dan. Like the rest of us, Nathan struggled with how to remember his father, ultimately forgiving him and reiterating the fact that he loved him. Haley, meanwhile, chose to let Dan's positive legacy live on in the Scott lineage, stating that Lydia would hear only of how much Grandpa Dan loved his grandchildren.
Over in Cutesville, Logan was putting me on cute overload with all of his cuteness. Seriously, even Jamie from season five couldn't compete with how cute Logan is. His "then why didn't you?" was filled with so much little kid anger that it might have been the cutest thing yet.
Seriously, though, it was nice to see the kid and the grandparents coming around on letting Clay in a little more. Clay, Logan and Quinn will slowly develop into a happy family. We won't get to see it happen with only two episodes left, but it will.
Finally we get to our lovely Brooke Davis, who like Nathan, was released from a horrid plot and given something with a bit more depth. She shut the door on Ted Davis, hopefully kicking him out of her house and her life for the last time. Maybe now she can help her hubby Julian cast for the new Ravens television show!
With how they brought it up, and the great promise it might hold for the viewers' imaginations, I expect Julian's idea for a tv show to be a focus of the final two episodes.
How else are they going to wrap up One Tree Hill? What do you expect to see in the final two episodes in the history of the series? What did you think of "Danny Boy?" And how will you remember Dan Scott?
Check out some One Tree spoilers on the series finale, read all the best lines in our One Tree Hill quotes section, and then sound off in the comments!
Dan Forcella is a TV Fanatic Staff Writer. Follow him on Twitter.