Like previous Simpsons episodes this season, "Beware My Cheating Bart" might have been slightly entertaining, but the plot seemed awfully familiar.
The problem with the long-running series is that, eventually, you run out of fresh ideas. Obviously, we can't expect every episode to be as innovative as those produced in the earlier seasons; however, Bart's little romance with Shauna was way too reminiscent of his crush on Laura in season four's "New Kid on the Block."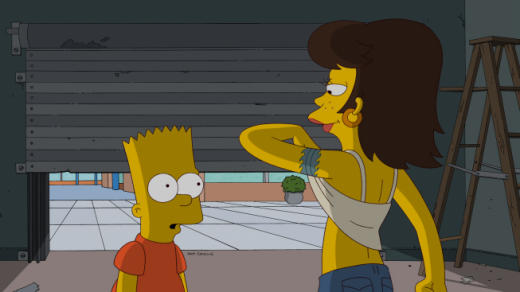 Seriously, let's count the similarities:
She's older.
She's tough.
She's Jimbo's girlfriend.
Granted, there were some majordifferences. For one, I don't think Laura would have ever flashed Bart her boob.
Laura was a bit more mature than Shauna, with way more self-esteem. The boob-flashing scene struck me as not only unfunny but also a little unnerving. Bart's only 10! What girl thinks it's appropriate to show her breast to 10-year old? Bart has been stuck in this pre-adolescent phase for a looooong time, which made him Jimbo's first choice as a chaperone for his girlfriend. It was strange to see him equally transfixed and disturbed by his first semi-sexual experience.
In fact, the whole courtship between Shauna and Bart - a cute montage of scenes that paid homage to The Graduate (and oddly Midnight Cowboy) - was too unbelievable. Shauna's self-esteem might be low enough that Bart's kind attention would be beguiling, but would she really make out with a child? I guess I just preferred the more innocent infatuation between Bart and Laura. How about you?
The real highlight of this week was Homer's obsession with an older TV show called Stranded. His interest not only lampooned Lost fans but also everyone who "discovers" a series through the internet or Netflix and becomes fixated. My favorite of all The Simpsons quotes this week regarded the popular and overly-mythologized show:
Wait a minute! That flashback raised more questions than it answered.
As a huge fan of the series, I can both relate to and laugh at that sentiment.