Family Guy has taken home five Emmy Awards, but never one for Outstanding Comedy Series.
Will Seth MacFarlane and company change that via their latest campaign flyer? It's unlikely, but it's at least creating quite a stir around the Internet. You can see why: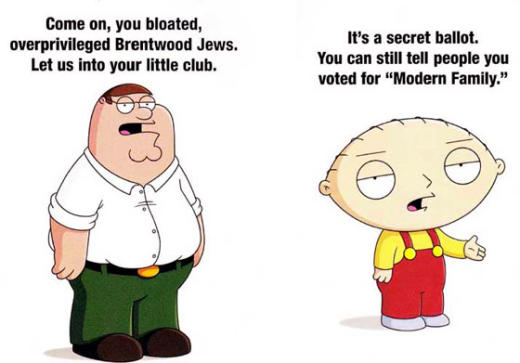 Pretty much on par for a series whose Family Guy quotes take aim at every religion, race and party? We'd say so. But not all agree. Says one anonymous television executive to E! News:
"While I think Family Guy is a genuinely funny show. We all - including this 'Brentwood Jew' - need to think twice about this kind of humor. Stereotyping any particular ethnic group is just not cool and can lead others (with the wrong intentions) to feel a certain license to take shots. Surely Seth [MacFarlane] has better stuff than this."
Where do you stand on this Family Guy flyer?
Matt Richenthal is the Editor in Chief of TV Fanatic. Follow him on Twitter and on Google+.