I grew up on the original Dallas, but I was a little hesitant when I heard it was coming back. So many of these series remakes haven't lived up to my expectations and I didn't want to be disappointed by an old favorite. Even some of the cast voiced concerns in this recent Dallas interview. 
Thankfully, none of us needed to worry.
Wow! Just... wow! That's the thought I walked away with after watching the new Dallas. "Changing of the Guard" is good and, more importantly, it's fun.  They haven't forgotten their history.  They're reveling in it and mining it for oil and so much more.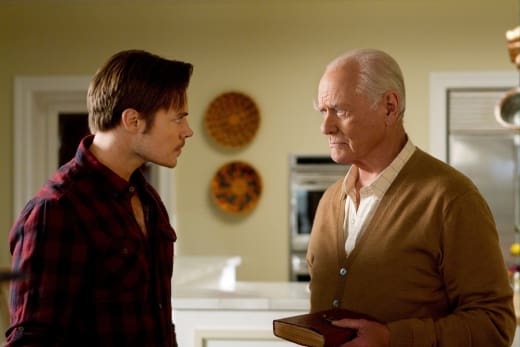 Where's J.R.?  Oh my. It was so sad to see J.R. practically catatonic and in the throes of a deep depression. The scene with Bobby coming to visit him broke my heart. Despite all of the bitterness, back stabbing and bad blood between these two brothers, deep down they've always loved one another. They just had a funny way of showing it sometimes. Okay, most times.
Bobby's dying! Damn. I didn't see expect this, but it's a perfect catalyst for what was to come. That's certainly something that would push Bobby to try and protect South Fork for the long term, even if it meant selling it to someone who isn't a Ewing.
I loved that despite over a two decade absence from my television screen, Bobby and J.R. were still the same characters I remembered. Perhaps a little older but not necessarily any wiser. The lines are as clearly drawn between these brothers as they were in the 1980s. In a strange way, it's sort of comforting.
Their father's sons. All grown up, John Ross and Christopher are absolutely their father's sons. Not only is John Ross secretly drilling for oil on South Fork, he'll use anyone he has to to get it. His girlfriend, his momma or his newly awakened daddy are all fair game.
He'll also play dirty. It certainly didn't take long for John Ross to call Christopher out for not being a true Ewing, reminding him that his biological father sold him when he was a baby. Oh, how I love a show that doesn't forget its past.
Christopher was on top of the world, until an earthquake shook his foundations. I loved that his quest for alternative energy wasn't easy. It's the future but getting there will take guts, determination, and money. Will success make him feel like a real Ewing?
Despite Sue Ellen having kept John Ross in boarding schools for his formative years and away from J.R., the boy obviously still learned a thing or two from his Daddy. Even how to go behind the old man's back.
The lovely ladies. And I loved them all. Annie, the new Mrs. Bobby Ewing, won me over during the break in. Did she call the cops or cry out for help? Hell no. In true Dallas fashion she headed straight for the gun cabinet. Looks like Annie's got more than a little of Miss Ellie's spunk in her. I can see why Bobby married her.
Rebecca's got that sweet, innocent girl next door look but she's obviously no push over. She knew how to roll with the punches when John Ross called out Elena to be her brides maid. I couldn't help but smile when Rebecca told Elena she was just like Christopher's sister. Nicely done.
But I felt the most for Elena. She grew up on the outside looking in to the Ewing family wealth and drama and now she's right in the thick of it. 
Do you think it was actually John Ross who sent the e-mail that split up Christopher and Elena? It could have been him or someone else. This show is full of surprises.
I was a bit shocked to see Christopher go through with the wedding after such a shocking revelation. He must really love Rebecca and they seem like a great couple but there's no way this won't come back to haunt them. 
And poor Elena had to stand up there as a bridesmaid and watch the man she loved marry someone else and smile while it happened. Ouch!
There were so many great little moments that I doubt I can recap them all but I'll try:
Sue Ellen's running for governor!  Thinking about the mousy, drunken housewife we met in 1978, that's a hell of a thing.
Mrs. Stanfield catching Christopher and Rebecca having a tryst in the locker room and saying "His Daddy would crow with pride." So funny.
That John Ross was trying to have Miss Ellie declared mentally incompetent.  Damn, that boy plays dirty.
I was only a little disappointed that no one ended up in the pool during a Ewing wedding. Ah, the good old days.
Dallas is back. The new blood mixing with the old for a fun, dramatic romp back into prime time soapdom.  Hold on tight because I think this is going to be one Hell of a ride.
* Read this Dallas review for my take on the second episode of the season!
C. Orlando is a TV Fanatic Staff Writer. Follow her on Twitter.