With nominations for the 2012 Emmy Awards scheduled to be announced by Nick Offerman and Kerry Washington on July 19, staff writer Dan Forcella is here to give you a quick overview of each category, his predictions for the 2012 nominations, and his Emmy Wish Lists for who ought to be on the ballot.
Other categories we've covered, predicted and forecasted so far: Lead Actor Comedy, Lead Actress Comedy, Supporting Actor Comedy, Supporting Actress Comedy, Comedy Series, and Lead Actor Drama...
-------------------------------------------
It's time for the ladies. The Outstanding Lead Actress in a Drama Series race has been very interesting as of late, mostly due to the fact that each year we assume it will be the year that Mariska Hargitay is left out as a nominee. I think it's going to take her not being on the ballot to stop the SVU star from being nominated.  
However, she certainly isn't the favorite. That title should go to Claire Danes, who is new to the field, but whose work on Homeland was undeniably fantastic.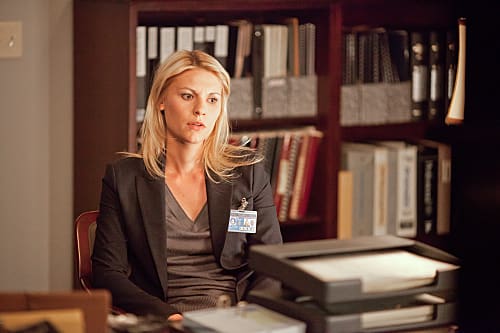 Prediction
Kathy Bates - Harry's Law
Glenn Close - Damages
Claire Danes - Homeland
Mariska Hargitay - Law and Order: SVU
Julianna Margulies - The Good Wife
Elisabeth Moss - Mad Men
Last year's champ Margulies, as well as 2008 and 2009 winner Close, should also vie for the crown in 2012. I correctly predicted Bates to join the field to her huge name, and I don't see the Academy getting rid of her just yet. Elisabeth Moss rounds out my group of nominees, and it was so difficult to leave her new costar Jessica Pare off of this list given how much the Emmys love to nominate Mad Men actors.
Emmy Wish List
Claire Danes - Homeland
It's tough to make an argument against Danes being the best overall performer of the year.  er depiction of the slightly (dramatically?) insane CIA agent Carrie Mathison was the cornerstone of the season's best new drama.
Jessica Pare - Mad Men
Whether you thought Megan was good or bad for Don Draper, there is no denying that Pare was fantastic in the role. Given that she first auditioned for the role of "brunette receptionist," I think she's come a long way.  She should win for "Zou Bisou Bisou" alone.
Emmy Rossum - Shameless
Rossum doesn't have to carry quite the load that her Fiona Gallagher does on Shameless, but if she did, I'm sure the actress could handle it. Whether it's taking care of her brothers, sisters, and parents, or getting crazy with her friends, Rossum portrays it beautifully.
Katey Sagal - Sons of Anarchy
I know everyone and their mother says it, but how has Sagal not been recognized by the voters yet? She says more with one glare as Gemma Teller than most actress do with an entire monologue. I would love to see this veteran actress get the credit she deserves for this performance.
Anna Torv - Fringe
Playing one character isn't good enough for you? How about playing two distinct characters, or three if you count the fact that Olivia Dunham transformed exponentially from beginning to end this year. Whether you're Team Olivia or Fauxlivia, you have to respect the job Torv has done.
Emily VanCamp - Revenge
Sure the series may be a bit soapy, but people have tuned in to watch VanCamp do her thing. Whether it be the tender moments with Jack and Daniel, the brother/sister relationship she has with Nolan, or the cold blooded revenge she seeks, Emily Thorne has been fun to watch.
Now it's your turn TV Fanatics!  Who would make your Emmy Wish List for Outstanding Lead Actress in a Drama Series?
Dan Forcella is a TV Fanatic Staff Writer. Follow him on Twitter.