Arrow took center stage at the Television Critics Association press tour today, as producer Marc Guggenheim touched on a number of topics related to the wildly-anticipated series, including whether a recent real-life tragedy will play any role in the writers' room going forward.
Read on for a rundown of key talking points...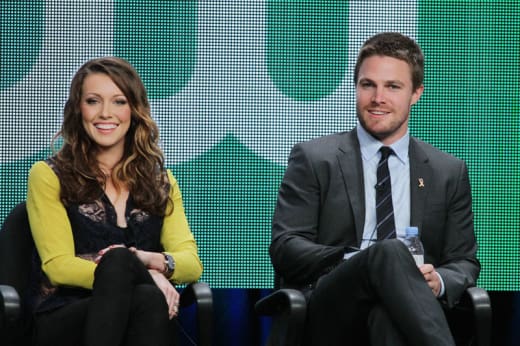 On Stephen Amell playing a role that Justin Hartley so recently portrayed on the same network: "I think audiences are savvy enough to understand there are different iterations of characters. Michael Keaton doesn't affect your love for Christian Bale...and look at the Bond franchise."
On changing up the story: "One of the good things about Green Arrow is that it has an origin that is subject to a lot of interpretation. There's not as much canon that's precious. We can play around."
EXAMPLES: Oliver Queen does not have any siblings in the comic books, but he will have a sister on the show. His comic book parents are also dead, but his mother will be alive this fall.
On the Aurora, Colorado shooting and depicting violence on television: The tragedy came up, Guggenheim said: "I think it's incredibly important to be responsible, first and foremost... There's violence in our culture seeping into our world in incredibly tragic ways...
"I think this show has an opportunity to explore the consequences of violence in a way other shows do not. We're going to be exploring aspects of vigilante-ism...our goal is to provide helpful social commentary."
The new series premieres on October 10 and the pilot is terrific. You can get an early look at a number of clips and promos in our Arrow video section.
Matt Richenthal is the Editor in Chief of TV Fanatic. Follow him on Twitter and on Google+.