Copper's premiere pulled down the highest ratings ever for BBC America, but the response of critics and viewers hasn't been quite so generous.
The second showing, "Husbands and Fathers," had almost as much riding on it as the premiere: hook the viewers, build the story, tease out next week's episode. Will Copper be able to pull it all off and hold its audience?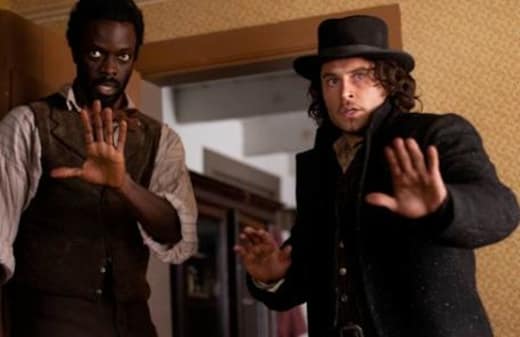 It all depends on who that audience is. If it's BBC America's traditional viewers, the ones that tune in for Doctor Who and Top Gear, then no. My guess is these people changed the channel last week and never looked back. But if BBC is looking to steal a piece of AMC's action, then it might have a chance.
There's no doubt that the gratuitous sex and violence in Copper is an attempt to keep up with other American offerings like Breaking Bad or Game of Thrones, but it feels so off brand for BBC. Almost every woman (and girl!) is a prostitute, and I'm not sure if Corcoran has had more sex or fistfights. Anyone keeping count? 
Still, I think Copper has potential. Looking past the startlingly low production values and the inconsistent writing, I see an interesting character in Detective Corcoran and a show that had me on the edge of my seat this week as the lecherous Haverford closed in on Annie. Unfortunately, that conflict didn't live up to its potential; the double murder of Haverford and the Madam felt contrived, especially with Annie dealing the deathblow.
Several more twists were added to the plot this week - Morehouse is buying up Five Points, Corcoran's lead on his daughter and wife dries up, Annie's father is really her husband (which plays nicely into the episode title)! – and I thought Copper handled the doling out of this exposition well. The show is even great in the little moments, the snarky asides that build characters, make me laugh, and fill out the ranks of the Copper quotes page. 
It's in the grand gestures, like when Corcoran ambushes Haverford or Morehouse's warning to Corcoran about the future, that Copper loses its way. I think, counter-intuitively perhaps, that this bodes well for the drama. It's a lot easier to fix the big mistakes that affect the plot than it is to change the little things that reveal character.   
A (copper) penny for your thoughts!
What happened to John Reilly? Do you think we'll be seeing him again?
Which character most intrigues you? I'm most curious about the Freemans, especially Sara. They've been moving the plot along, but so far we don't know a whole lot about them.
Does Copper need more muttonchops? The answer is probably yes.