The Simpsons Review: Back to the Big Apple

Teresa Lopez at .
The Simpsons is back for yet another season. The show's been showing its age and its inability to stay current in recent years, but with the end drawing near, there's still hope it can keep its loyal audience happy for at least another season.
Unfortunately, "Moonshine River" wasn't a great start to the 24th season. Even though the sitcom finally returned to New York City, there was very little to laugh at and even less to keep us entertained.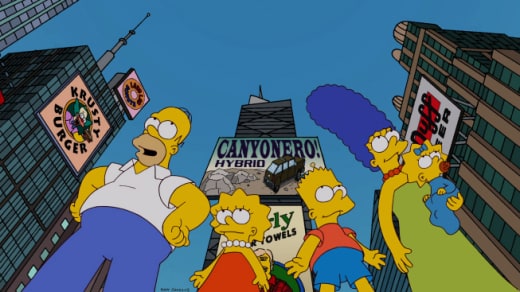 Bart's attempts to find at least one ex-girlfriend to connect with led him all the way to The Big Apple. It was an exciting premise, especially since most fans enjoyed the previous New York escapade in "The City of New York vs. Homer Simpson." The series did a good job of playfully referencing that earlier excursion.
The only time I really laughed was during the "Khlav Kalash" reference. The food cart and his limited food and beverage choices (Mountain Dew or Crab Juice) was the best part of Homer's New York adventure back in season nine. Showing the "Khlav Kalash" vendor in his much more lavish setting really traded on our love for the earlier episode. But this pleasant reminder of the past also reinforced the sense that this current season's trip to New York City never reached the same level of enjoyment as that first venture.
Fox tried to cash in on both the familiarity of The Simpsons' first New York trip and the adorkability of Zooey Deschanel. Unfortunately both efforts failed. Deschanel's quirky country bumpkin in the big city tried her best to endearing, but was mostly annoying. And, of course, Deschanel had to appropriate the acoustic guitar of an NYC street performer to sing a song for Bart.
There's nothing very original about the premiere, except for Marge and Lisa's attempt to enjoy the city on a very limited budget. Their inability to accomplish the most rudimentary tasks (like ride the subway) due to the exorbitant cost of living was a rather pointed commentary on the extravagance of the Big Apple. But even that was a rather joyless escapade.
That's not to say that there weren't a few enjoyable and hilarious lines. Homer can usually be trusted for at least one good The Simpsons quotes.
Did you enjoy the season opener? Are you looking forward to the new season?