Last we left the crew in Beverly Hills, Naomi was crashing a wedding, Silver asked Teddy to be her baby daddy, Adrianna took off for a gig in Vegas and Dixon got into a potentially fatal car accident. Well, "Til Death Do Us Part" caught us up on all of that and more.
Let's start with the biggest cliffhanger of all: Dixon.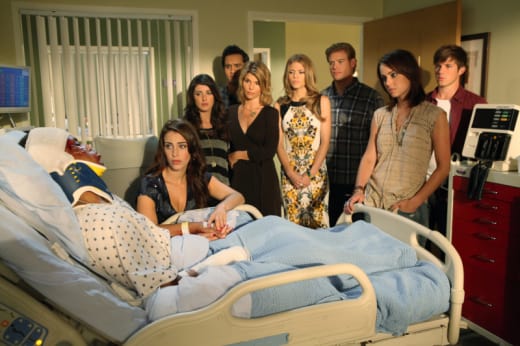 As you can tell by the above photo, he did survive, but just by a hair. After a wild goose chase that sent Annie, Silver and the boys to the morgue, they finally found out that Dixon was the only survivor and in critical condition.
Considering the aforementioned photo was officially released by The CW before the premiere, was it necessary to include the whole morgue situation? C'mon, writers, you made Annie a hooker who almost got a priest to abandon his path, can you give her storyline a mild breather?! Shenae Grimes would appreciate it.
It's too bad Ade didn't find out sooner what had happened and instead hopped into bed with the first guy she saw. There was obviously no way she could've possibly known. She thought her boyfriend had just up and ditched her, so it's understandable what she did, but you know the guilt is going to haunt her; Especially now that her one night stand, the sexy Wes Brown, has made his way into town. He's also gotten himself into a potential business deal with Navid!
The rebuilding of Liam's bar, with Navid on board, will definitely be helpful in keeping their minds occupied now that Teddy has agreed to be Silver's baby daddy. I loved her line about Teddy not having to be just "sperm and Christmas cards." It was a heavy episode and Naomi can't carry all the humor by herself. For more quips from tonight, hit our 90210 quotes section.
Speaking of Naomi, she got her man, but it doesn't look like it's going to be wedded bliss with his business partner Alec in the picture. Alec seemed a little stalkerish to me. Did anyone else get that vibe? Obviously the guy just called off his wedding, maybe he's not gonna pick up the phone. He didn't have a warrant to search Naomi's house. Besides, Max hurt Naomi in the past as well. Breakups are rarely one-sided.
It was so nice to see Debbie since she's been a bit of an absentee parent lately. Let's see... am I forgetting any of the major players? Ivy is in Mexico and we won't be seeing Austin for a little while but I think that about catches us up! That psycho Vanessa is back and she's definitely going to blackmail Liam about burning his bar down for insurance money. it's funny how you can love a character on one show and hate them on another. I was a big fan of Arielle Kebbel as Lexi on The Vampire Diaries. On 90210? Not so much.
What did you all think of the 90210 premiere? Hit the comments!