"The Astronaut and the Ballerina" was a bit of a bummer. The premise of Melanie taking to the rink as a roller derby queen is so exciting and instead of all the focus going in that direction (focus that was well earned by Emma Dumont's performance in "I'll be Your Meyer Lansky"), most of it was streamlined to Michelle and her goofy brother, Scotty.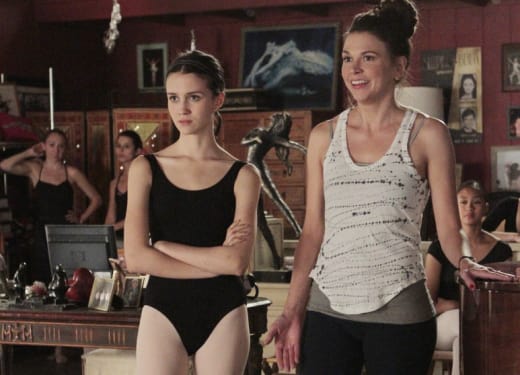 As much as I enjoy watching Bunheads, I realized tonight if Michelle was my friend, I would probably either a) shrivel into my own skin like a raisin or b) punch her in the face. She never shuts up. That's why Fanny needs to be on the show. She is the only other character who is written to keep up with Michelle in both speed and voracity of conversation.
Even when Michelle tries to let someone else in, such as Godot, they rarely get to say much, but rather spend most of their time listening to her. I've been around people like her, and while I like them (I really do!), they are absolutely exhausting. Spending an hour with them can feel like spending a day.
Back to Fanny. I was wrong. Michelle has a brother, Scotty. It turns out they are two peas in a pod. Spending an hour with them would feel like two days, because he wasn't as amusing of a foil for Michelle's quips as Fanny. They were too alike, as family members can be. When the two of them finally aired their differences, it was so painful. Not only the voices and the tone, but the emotion behind them.
The surprise was Michelle admitting how much influence Fanny had on the happiness she has in her her new world. For that revelation alone, I was happy to have Scotty visit. Otherwise, there wasn't a lot about him to like and a long term visit wouldn't be appealing, especially if it keeps her from Godot. Hey - eye candy!
Tell me - have we met Jordan before? Where the hell have I been that I don't remember him? He's so full of personality during this episode that you'd think I would have at least some recollection of him, but he seems like a completely new addition. Given his comfort level with Michelle and the students, he couldn't possibly be new to the studio. Has he always been a teacher of this magnitude? Just how blind have I been to the dance classes?
It was sweet that when Ginny found out about Melanie she immediately blamed Cozette and Frankie, especially given her crush on the latter. It takes some big feelings to talk down to a boy you like to try to get your friend back into your life. I'm sure Melanie can make room for both derby and Ginny, but they'll have to figure out how to do it. Sorry, that can't take the Cleosmacktra out of Melanie now! She rocks that rink. I've loved the transformation of Melanie from a sidekick bunhead to a leader, and I don't want her to go back into hiding.
Other than that, it was a little light. Boo and Carl were playing parents to her little brothers, and discovered they are definitely not ready to jump into the role themselves. After the tearful hug at the end of last week's hour, I expected something to have happened with Sasha, but she wasn't even on the show. If it wasn't for the roller derby material with Melanie falling into place, I would have thought the episode was out of sequence. Is Sasha homeless? In Encino? Maybe we'll find out next week.
Keep up with all the news on Bunheads Season 1 and chat about it in the comments.
Carissa Pavlica is the managing editor and a staff writer and critic for TV Fanatic. She's a member of the Critic's Choice Association, enjoys mentoring writers, conversing with cats, and passionately discussing the nuances of television and film with anyone who will listen. Follow her on Twitter and email her here at TV Fanatic.