What a disappointment.
"Hardly Kirk-ing" started off with such a great premise, but sadly, there wasn't much follow through on the Bart and Milhouse shenanigans. Bart's hilarious discovery of Milhouse's striking resemblance to his father (when his head is shaved, of course) could have made for a really entertaining episode.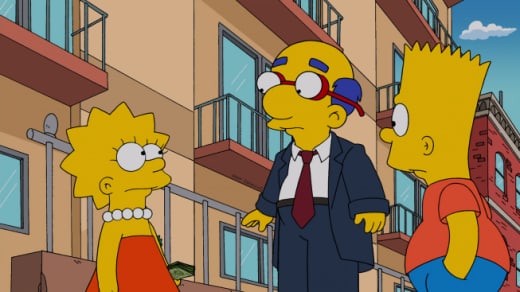 But what do they do with the interesting comedic conceit? The most Milhouse accomplishes by impersonating Kirk is crash a rented truck and get bullied into buying alcohol and cigarettes for Kearney, Jimbo and Dolph. It was pretty amusing the way the Bart and Milhouse manipulated Homer into eating a gallon of ice cream in two minutes, but the laughs were severely lacking once Milhouse decided to be a real adult and cast his vote.
In addition, there were some more oddly adult moments, like in last week's "Love is a Many Splintered Thing." On the surface this makes sense given the premise of their deception, but these moments are still so creepy. Watching Bart blow up a condom and having Milhouse counter with, "It says those are for her pleasure," is funny until you think about Bart having a condom in his mouth. Gross!
I will say that Homer's obsession with Highlights magazine (specifically the "find the objects" game) was very funny. His searching skills become so great from all his practice that he can easily flip through a Where's Waldo? book spotting the titular character with no effort.
The only bright spot in the episode wasn't technically a part of the episode. The Maggie short, "The Longest Daycare," was a beautiful piece of animation showcasing a tender story of hope in an otherwise bleak environment. I feel like only time The Simpsons can really exercise some creativity and depth is in these shorts and during the show's opening sequence.
What do you think? Browse through our section of The Simpsons quotes now.