The Simpsons Review: The Reverend and the Frog

Teresa Lopez at .
The uneven The Simpsons Season 24 hit a high point this week with a genuinely enjoyable half hour of comedy.
"Pulpit Friction" may not have been the most hilarious episode, but it certainly offered a lot of funny sight gags and some tongue-in-cheek humor. Interestingly, tonight's couch gag lead directly into the episode. After the family parachuted out of plane, the couch was in serious need of replacement.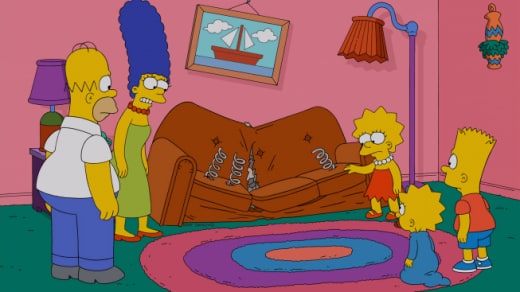 The "new" couch (an exact replica of the old one) was unfortunately infested with bed bugs, which quickly spread throughout the town. The plague of bugs offered a great opportunity to trot some hilariously inspired gags. From Moe's Python-esque chanting for the citizens to "Bring out your beds" to the citizens and their city getting a serious washing down, Springfield was in the grips of a humorous panic.
Reverend Lovejoy's replacement by the much cooler Reverend Hooper seemed to come out of nowhere. We've seen Lovejoy battle to retain his flock in the past, but he's always been a boring and ineffectual spiritual leader. This episode focused less on his failings and more on Hooper successes, especially in winning over Homer.
But of course things have to go back to normal next week, so the episode contrived to set things right through Bart, who missed his formerly heathenish father. Bart released another plague on the city to bring Lovejoy back: frogs. It was a pretty ridiculous plan, and I would have probably believed it more if it was Ned who unleashed the plague. But it did create some more funny sight gags like a frogger and Princess and the frog parody.
Naturally, Hooper can't cope with the frogs, but Lovejoy can bore them to sleep. And things are set right again.
Other than a rather useless subplot involving Marge's missing wedding dress, this week's installment was fairly enjoyable with some great The Simpsons quotes.