Matt Donovan proved one thing on "She's Come Undone," a Vampire Diaries episode that brought back the old Elena, nearly killed the Sheriff and featured Bonnie making a deal with the Devil:
You don't need to wear a varsity jacket to play hero.
Seriously, let's all give a slow clap to Matty D. The guy may not know his Pythagorean Theorem from his Periodic Table, but the busboy saved the day this week. Give that man a promotion, Grill!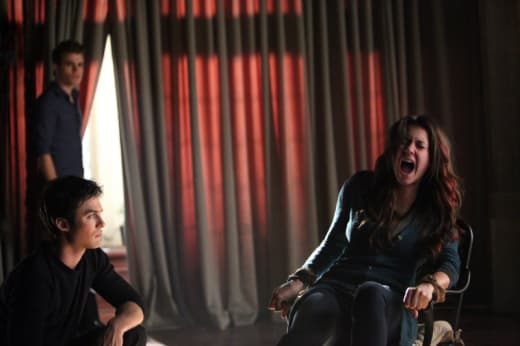 Matt's quasi sacrifice finally broke down Elena's emotional floodgates at the perfect time.
This storyline has been a tremendous showcase for Nina Dobrev (she was especially strong in the climactic scene, believing her first high school sweetheart to be dead), while also taking focus away from the played-out Cure arc and from the tiresome love triangle.
But we all knew it would conclude at some point and I applaud Julie Plec and company for this creative solution: not only did it give Matt a chance to shine, it served as a callback - a call all the way back - to The Vampire Diaries Season 3 finale and this year's premiere, as Matt was able to repay his debt and Rebekah was able to come full circle with an apology for her role in that whole driving-Matt-and-Elena-off-the-bridge-and-prompting-the-latter-to-become-a-vampire thing.
(Pssst, Matt: forget Rebekah as your tutor. You should go ahead and toot her... if you know what I mean!)
Elsewhere... well, not a great deal happened. This was a tight, focused hour that mostly concerned itself with evil experiments on Elena. Not that I'm complaining. The Vampire Diaries can sometimes suffer from too many things happening at once, from going a million (sorry, Caroline, 90 million) miles an hour and relying more on shock and awe than sense and logic.
So I welcomed a respite. The episode was clean and tidy and we were left with some intriguing resolutions:
Bonnie has a scheme to bring down the Veil. Hey Bon-Bon, what's the French words for buzzkill?
She also has a deal in place with Katherine.
Silas has issued a threat that there will be consequences if Bonnie does not live up to her end of their dangerous bargain.
Elena wants to kill Katherine because she's responsible for everything that sucks.
That's where we are heading into "The Walking Dead" and then the Season 4 finale. What did you think of "She's Come Undone?"
Are you glad that the old Elena has returned? Is Rebekah on her way to being redeemed? What, exactly, is Bonnie planning? And who would make a better study partner, Caroline or Rebekah? Sound off now, TVD Fanatics!
Matt Richenthal is the Editor in Chief of TV Fanatic. Follow him on Twitter and on Google+.