Poor Gabe. He came so close to getting the girl, but by waiting he may have lost his opportunity.
At the beginning of Beauty and the Beast Season 2 Episode 11, it was pretty clear that Gabe was being a gentleman and holding back Cat's attempts to be demonstrative with her intentions toward him to keep her from moving too quickly.
He even had the satisfaction of telling Vincent that Cat was waiting for him at the moment.
However, after a tense hostage situation that not only revealed to Cat colors of the Vincent she fell in love with, but also gave them the opportunity to learn more about each other's personal stake in the necklace, the tides turned.
Gabe is going to wait while Catherine discovers the strong women she knows is still lurking inside her and we all know that when she appears, she'll recognize her affections toward Gabe weren't genuine. Poor Gabe.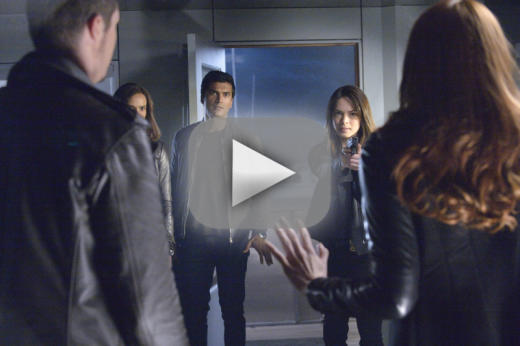 That necklace not only seems to be at the heart of the beast mythology, it appears to have some hold over beasts when they are in possession of it. All of the pieces have not come into place yet, but here's what we do know:
The stone fit into a collar that was might have been used to subdue beasts genetically similar to Vincent and Tori
The collar was created over 10,000 years ago
Cat's ancestor, Rebecca Reynolds, was involved in an investigation that revolved around the gem in 1836
Just after Tori put the necklace on, Cat was easily able to knock her out
Vincent was unable to hear Cat's appeal for help while he had the gem on him
I'm not sure how the Russians are going to come into play, but the part of the puzzle that was most interesting to me out of the five noted above was how easily Cat took down Tori while she wore the necklace. Something tells me that Vincent parading her around in that necklace will be her downfall. Hold your applause!
If people are making and controlling beasts, perhaps they have been doing so all along in conjunction with or alongside Muirfield's own experiments. But what is the gem and why does it have power over beasts? Are there more of them or do different gems produce different results? It's a genuine mystery that is really adding to the story.
Tess had a pretty rotten birthday, all things considered, and her pal Freddy died. It's a shame that a character at the precinct only gets airtime when he's on his way out. He was a sweet old fellow. It would have been nice to have him around for a bit. The best part about it being Tess' birthday was her appreciation for Vincent saving her life. 
Vincent did that of his own accord, without any nudging from Cat, because he couldn't hear her. It was his own concern for people, perhaps even his friends, that made him return to the hostage situation and save the day. He put his life on the line because it was the right thing to do. He hasn't lost his humanity at all. He's just a little put off by the cascade of bad news Cat's family has brought upon him.
And your place in all this? Your mother? She corrupted my DNA. Your father? He wiped my memory and then tried to obliterate me and now there's some woman in the 1800s who had this jewel that fits into a beast leash.

Vincent
Once again, the dynamic between Cat and Vincent during the stressful situation was much better than it has been in a very long time, even more than it was at the end of Beauty and the Beast Season 1. As you watch the scene at the end when Vincent is joking with Cat about whether or not she apologized and they decided to work together to discover the origins of the necklace and what it means, the true appeal of the chemistry of Kristin Kreuk and Jay Ryan is obvious.
It's also apparent that by putting them together as a couple who were madly, deeply in love so early in Season 1, we missed out on a lot of fun, sometimes tense, but always exciting scenes between them. The games people play as they find their way into relationships can be a lot more entertaining than watching them once they've realized they're right for each other. 
I think that's a mistake the writers realized and set about correcting. These last two episodes have proven they've done the right thing, with the right cast and mysterious origin story in place. Tori's presence is even welcome, because she is such a polar opposite to Cat that there is little real threat to the love between her and Vincent other than Tori's beastie hormones to drive them apart. Cat's magnetism drew Vincent in once and it will happen again.
When Cat and Vincent are comfortably sitting, playfully jabbing at each other without fear that they will hurt feelings or someone will walk away, it gives them an opportunity to open up in ways they otherwise wouldn't. They are already apart. Now they can build a friendship and be a team and fill in the missing steps they overlooked by going from protector and savior, in turn, over and over again. This will be deeper and longer lasting.
It bears repeating, even though I think he knows it already -- poor Gabe.
If you want to watch this, or any Beastie goodness over again, be sure to watch Beauty and the Beast online right here on TV Fanatic.
What surprised you the most about the gem so far?
Carissa Pavlica is the managing editor and a staff writer for TV Fanatic. Follow her on Twitter.