Voight, working to clear a city of its savages, made The Windy City his number-one priority on Chicago PD Season 1 Episode 2.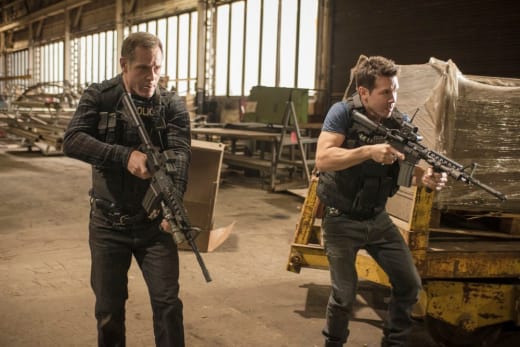 The ending brought back memories of Chicago PD's backdoor pilot last season when Voight admitted he's "putting himself out there as dirty" to catch some big criminals; The mysterious woman works for some agency, whether that's IA, isn't completely clear. What is clear is her distaste for Voight.
She doesn't want Voight's promises of soon for those big criminals as she yells at him that he works for her. I guess the successful arrest of El Pulpo wasn't enough for her, nor was the catching of big fish required some time before results come in.
Voight has a history of pulling strings and angling in a way that benefits himself first, but, there's no arguing with his results. When he says soon he means it.
This exchange near the end was nowhere near as exciting as the rest of the installment. With Antonio's kidnapped son as leverage in exchange for El Pulpo: both the unit and Antonio's family were at stake.
Antonio, even working under a man like Voight, still did his best to follow the letter of the law. Much like Dawson, his family comes first, and he's not going to risk doing something that he may regret. Only after getting the go-ahead from his wife did he decide on trying things Voight's way.
Erin was still shaken up about Willhite's death and it's only grew worse after she had to deliver the news to her husband. Her past is beginning to come into focus a bit as she mentions that Voight saved her life after Jay finds her file in Jin's CI files. She's still not very forthcoming, but she's shaping to have some similarities to Voight.
Finally, a little more with Andy rose to the surface as well. He's lying to Wendy about his job. He's not a pencil pusher at all. It's a noble thing to keep that side of his job away from her, but that's not exactly healthy for their relationship.
Not having an outside person to talk to about his job will weigh heavily on him, and so will the lies he has to keep straight to do so. Olinksy recognized this and hopefully he'll give him the heads up.
Three More Thoughts:
It's enjoyable to see PD not run into every situation guns blazing. They work contacts, criminals and do undercover work before ever drawing their guns. It's a good change of pace from the usual procedural tropes.
Officers Atwater and Burgess aren't doing much for me at this point. Hopefully as the series progresses we'll see what their roles will be, but right now they feel like just the backup for the intelligence unit.
I am loving all the small crossovers between Chicago Fire and PD. It makes everything feel alive and connected. Dawson showing up to help Antonio's family speaks to her character and the way they've been brought up together.
Is Voight telling the truth? Is Chicago coming first... or will Voight always come first?