The Mindy Project Review: Mindy Drama

Chris O'Hara at . Updated at .
As Mindy and the gang went right to left and landed in L.A. this week, her relationship with Cliff went from right to wrong.
Cliff ultimately breaking up with Mindy was a rough end to The Mindy Project Season 2 Episode 13, but the installment as a whole was the biggest disappointment of the night.
From the onset, the premise for their trip was flawed. Why would a group of OBGYN's care about anti-aging cosmetic injections? One could maybe make a case for the seminar on vaginal reconstruction for the obese, but was there no better reason to get the crew to California?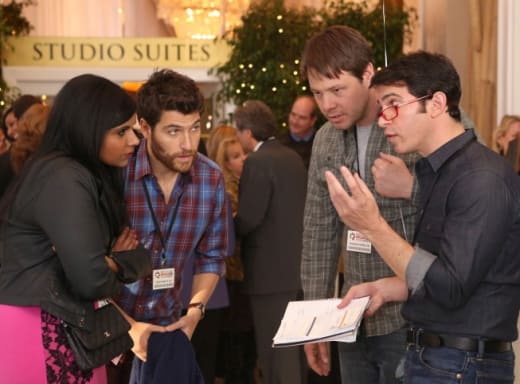 Then there was the scene where Mindy was packing.
Cliff: Do you really need to tan?
Mindy: Babe this is the palest I've ever been. I'm basically a white person. Yesterday I caught myself watching lacrosse, and I liked it.
The woman who previously dreaded the prospect of wearing a bikini in a hot tub with her boyfriend packed nothing but bikinis, a Kabbalah bracelet and tanning oil for a trip with coworkers?
While neither was good, Peter's impression of Johnny Drama from Entourage was way better than Mindy's. Yet sadly they both delivered their worst performances of the season. They may have been fish out of water to some degree, but what was with their outfits at the party?
The run-in with Casey would not have been all that farfetched, but adding on his relatively overnight sneaker pimp status was a bit much, even for Hollywood. Then Mindy just decided to take a swim once her phone battery died. Mindy is the last person you would expect to do something impulsive like that.
She went from soaking her legs in the water to wading around up to her neck. A cannonball from Kevin Smith could may have been the only thing that could have saved that scene.
Danny getting up the liquid courage to call his dad was a big moment, but there were just so many issues with the rest of the episode that I felt like the scene was done a disservice.
Also, according to Morgan, that was supposed to be their last night in L.A., but then he mentioned the dinner he set up was for the following night.
Mindy of all people, given her taste in magazines, should have been aware of the paparazzi at parties like that. She, of course, behaved herself around Casey, but Cliff was well within his right to be upset if you ask me. Hopefully she will get a chance to explain herself next week, in an episode more in keeping with the high standard of comedy fans are used to.