Well, hello again, Nyssa!
Remember when Sara left at the end of Arrow Season 2 Episode 20 and said she was going to see somebody? We'll find out soon that somebody was Nyssa, one of the League of Assassins.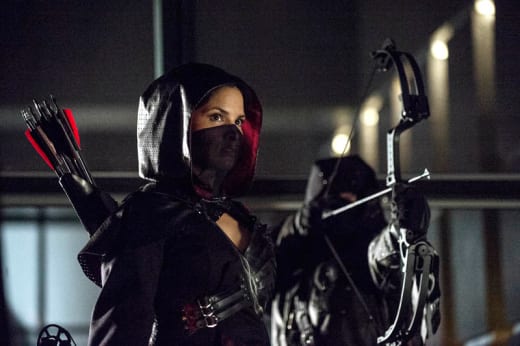 With Oliver reeling from the murder of his mother by the vindictive Slade, he's going to need all the help he can get going forward, as things look more and more dire for those in Starling City.
"When you're fighting an army, you need an army," Executive Producer Andrew Kreisberg said at a recent Arrow screening, confirming that Nyssa will appear on the May 14 finale as an ally.
Kreisberg also confirmed that Nyssa won't be returning alone, as you can see in the above photo released by The CW.  
"She comes back with The League [of Assassins]," he teases. "It's the Arrow, Canary and Roy and the League of Assassins versus Slade and his Mirakuru."
Will Nyssa only be helping Arrow in hopes of getting Sara back in The League and also her arm arms, since it was revealed the two women share a romantic past? Or is fighting for the greater good the primary goal for everyone involved? 
We'll find out in two weeks.
Arrow Season 2 airs Wednesdays at 8/7c on The CW. 
Jim Halterman is the West Coast Editor of TV Fanatic and the owner of JimHalterman.com. Follow him on Twitter.