The departure of Dr. Alex Blake highlighted the end of Criminal Minds Season 9 Episode 24.
We learned a lot about the BAU team overall this season, witnessing the introduction of a new Section Chief (Matt Cruz) to replace Strauss.
Ready to take an in-depth look back Criminal Minds Season 9? Follow our Report Card below and then hand out a grade to the long-running CBS drama...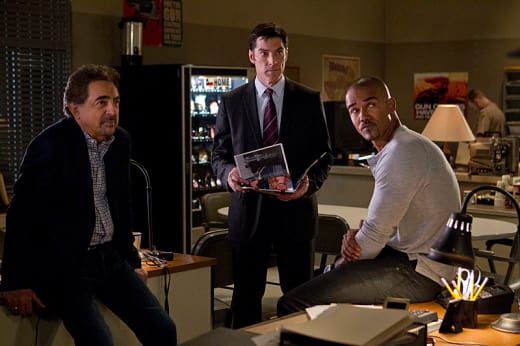 Best episode: It was a tossup between the two-episode finale and Criminal Minds Season 9 Episode 14 (titled "200").  At the end of the day, we have to go with the finale.
While "200" had a lot of action and telling of back stories, Criminal Minds Season 9 Episode 23 and 24 were, hands down, the smartest, most unpredictable and action-filled episodes of the season.
Morgan and Reid got shot... with the latter having to struggle for his life in the hospital; Garcia had to shoot an assailant in order to save Reid; and the BAU had to fight an entire corrupt police department, not only to close the case but to escape with their lives.
If one of the cast had to leave (Jeanne Tripplehorn), there wasn't a better way to go out.  The action didn't let up until the final few minutes, proving once and for all that the writers of Criminal Minds know how to end a season. There was nothing tentative about that final episode: they went out with a bang.
Worst episode: Criminal Minds Season 9 Episode 11 featured an utterly boring case-of-the-week about an unsub who was a child victim of bullies. 
The more interesting aspect of the hour involved a peek at Blake's life, which we got to see only because her father asked for her help on a case. Enter her disgruntled detective brother, who disagreed with dear old dad on bringing the BAU - and especially Blake - in at all.
As a soap opera, the episode deserved glowing praise, particularly as there was plenty of familial drama to munch on. As a crime procedural, it provoked sleep.
Most initially confusing relationship: JJ and Cruz.
We first met Cruz when he encountered JJ during a jog in Criminal Minds Season 9 Episode 4. Even then they were secretive, preferring not to hang out with each other in case someone saw them.
In the following episodes, we saw them start conversations then suddenly change direction when any of the other BAU members showed up.
Probably the only thing not very believable about that arc was the fact that none of the team seemed willing to call them on it.  As profilers, they're used to seeing each others' body language quite quickly and they tend to be very open about asking them about what's going on. We didn't witness that with these two, which seemed really surprising when Rossi said nothing after noticing their poorly disguised topic change.
It wasn't until Criminal Minds Season 9 Episode 14 that the mystery was finally revealed when they rescued JJ from her kidnapper. Ten episodes seems a long time to keep viewers hanging like that.
Most interesting unsub: Fred Koehler, who played the twins Wallace and Jesse in Criminal Minds Season 9 Episode 2.
You get the sense he truly enjoyed playing these two characters, both of which were victims of their mother's machinations.  He got to portray two sides of a coin: one brother was utterly chaotic and the other was order on steroids. It was fun to watch.
Most empathy-invoking unsub: The award for this goes to the dad named Eddie in Criminal Minds Season 9 Episode 5.
Eddie was a bit violent, but only when it came to protecting his daughter. In one scene, he beat his child's would-be rapist to death. A scene that many dads with daughters could appreciate.
Of course, the man went too far in his efforts to keep his daughter with him by killing people off. At least the writers were nice enough not to have the BAU turn off his lights. 
Most welcome development: Unsubs who aren't truly freaks. If not relatable, they were at least understandable this season.  Although there was one exception: Criminal MInds Season 9 Episode 4 featured an unsub who liked to lobotomize his victims and then put oracular implants in their eyes. So he didn't paint the picture of a "normal" criminal.
The reason this development is so important is that it goes to the credibility of the series as a whole. In real life, we don't read about the kinds of unsubs featured in earlier seasons: people whose cheese has slidden so far off of their crackers as to be instant candidates for Ripley's Believe It or Not.
My grade for Criminal Minds Season 9: A-.
Hopes for Season 10: Let's continue with building stories based upon believable unsubs. There's no better way to ensure viewer engagement than to keep within the realm of possibility. Let's face it, the notion of a man dislocating his victims' joints so that he could display them as human marionettes (Criminal Minds Season 8 Episode 10) stretches the suspension of disbelief to the breaking point. 
Now that Blake is gone, we need to find a new member for the BAU, one who provokes more empathy than she did; one who meshes well with the team. Not that Blake didn't - but her popularity never made it past the midway point on the acceptance meter. It seems doubtful that Prentiss will come back, as she would be ideal. The worry here is that whoever is picked might suffer the same fate as Blake/Tripplehorn.
Now it's your turn.  How would you grade Criminal Minds Season 9?
Douglas Wolfe was a staff writer for TV Fanatic. He retired in 2016. Follow him on Twitter
.