NCIS Los Angeles Season 5: Grade It!

Carla Day at .
It was a wild ride of ups and downs for the team on NCIS: Los Angeles Season 5.
Deeks and Sam recovered from being tortured... Deeks and Kensi finally admitted their feelings to each other... Kensi was spontaneously shipped off to Afghanistan... and Hetty's status is uncertain due her bad decisions.
The Afghanistan storyline had its problems, but it successfully worked to keep Kensi involved in the show while Daniela Ruah was on maternity leave. 
Overall, it was a good season. Check out our full season report card below.
-------------------------------------
Best Episode (tie): The season premiere, NCIS: Los Angeles Season 5 Episode 1, was the epic conclusion to the Sidorov story. After finding the tortured Sam and Deeks, they were forced to play act their own deaths instead of being immediately rescued in order to protect Quinn's cover. It was also the most emotional episode of the series with Sam and Deeks bonding for the first time. Even more was Deeks' openness with Kensi when he told her the truth.
The other best hour was NCIS: Los Angeles Season 5 Episode 4, the 100th episode for the series. Callen thought he had found and lost his father, but that wasn't the case. That didn't make Michael Reinhardt's sacrifice any less significant. The hour was filled with physical and emotional turmoil from the beginning to the end. Callen found out more about his history and even his father's real name: Nikita Alexander Reznikov.
Most Disappointing Episode: After being in Afghanistan, captured, reunited with her ex-fiance and rescued by her team, Kensi's return to Los Angeles was anti-climatic on NCIS: Los Angeles Season 5 Episode 20. Kensi acted like she hadn't spent time with the team in Afghanistan or on the trip back which was odd. The situation wasn't helped when she was relegated to Ops with Eric where she was useless.
Even worse was that there wasn't any discussion or mention of what happened with the White Ghost, Kensi's fiance, or that Hetty sent her into the terrible situation.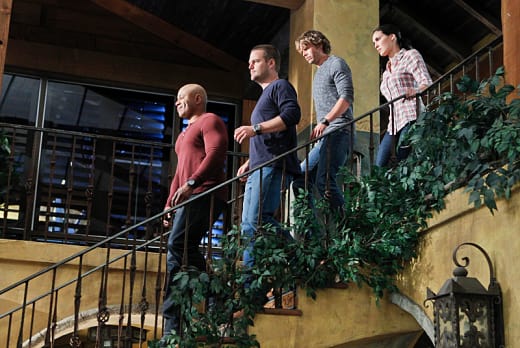 Stop Trying to Make it Happen: Nell proved that she's a capable agent in the field, but that's not enough to be there permanently. That's just not her niche. She's a top notch Intelligence Analyst and excels when working in Ops. If she's going to go into the field, it should be when her technical skills can be utilized. She's not Kensi and that works for her.
Best Personal Life Development: Callen got a girlfriend! Sam's always looking out for his partner and friend. The con to get Callen on the date was brilliantly orchestrated and it worked. We haven't seen her much, but we rarely see the personal lives of any of the agents. It's nice to see a happier Callen.
Best Non-Reveal Moment: In NCIS: Los Angeles Season 5 Episode 21, the infamous box was opened and the contents were revealed ... sort of. Kensi used her father's knife, which Deeks returned to her to open the box. Inside he found another sealed box. Without the knife to open it, it remains a secret for another day. Slowly, their feelings are being unboxed and opened up.
Worst Relationship Moment: When Talia returned to help NCIS, she stirred up trouble with Kensi and Deeks. The sex-off between Talia and Kensi was one of the worst moments on the series. Kensi's reaction didn't feel authentic to her character at all. Deeks' distraction was not believable either. It was a disappointing decision for the writers to make.
Hopes for NCIS: Los Angeles Season 6:
The show is at its best when the episodes focus either on a compelling, risky, and time sensitive case or when they focus on the characters. I'd like to see fewer throwaway cases that don't have overarching ramifications.
Less avoidance of serialization. More continuity from episode to episode would help better develop the characters and relationships.
Deeks and Kensi's relationship status after her return hasn't been clearly defined for the viewers. Are they carrying on outside of work? Or are they not together? Inquiring minds want to know!
Keep Nell in Ops. It's where she belongs. She's not a Hetty replacement and isn't a good fit to be a permanent field agent. It's also not necessary for every man to fall for her when she does go into the field.
At least one, if not several, major criminals for the team to pursue. Whether it's a terrorist cell or a Sidorov-like character, it's more enjoyable to watch longer arcs then just single episode cases.
For Callen's girlfriend to make an appearance. 
Overall Grade: B.
Your turn! What grade to you give NCIS: Los Angeles Season 5?
Carla Day is a staff writer for TV Fanatic. Follow her on Twitter and on Google+.